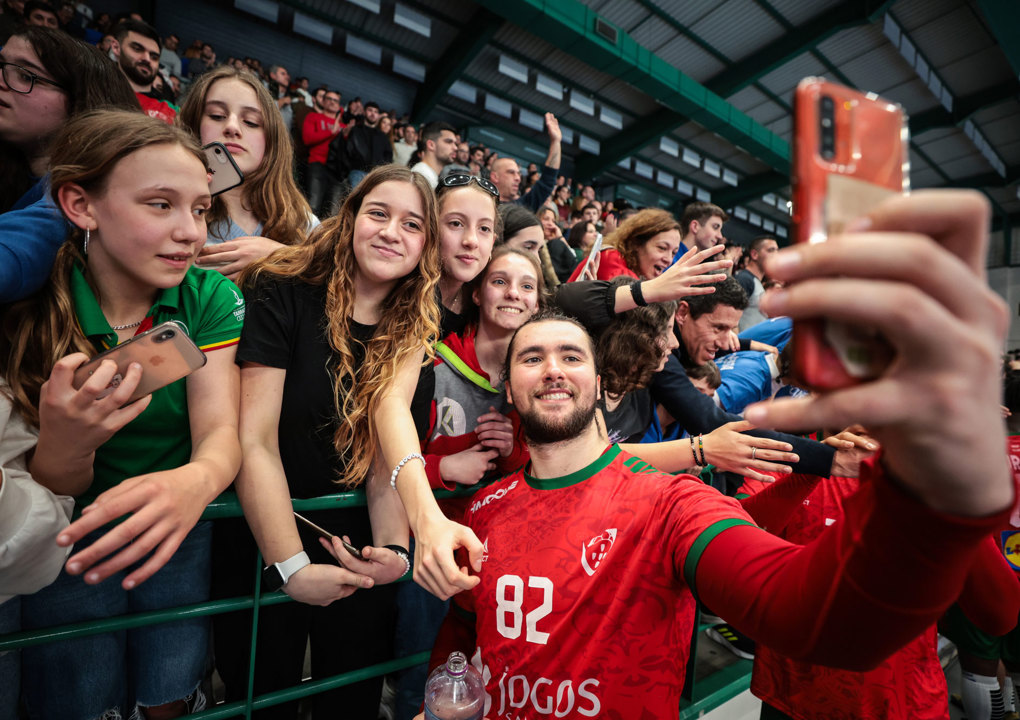 SUMMARY: Five EHF EURO 2024 tickets booked in round 4
Round 4 of the EHF Euro 2024 Qualifiers started on Saturday with three matches, including the Highlight Match of the round between France and Poland. With victories over Ukraine and Poland, Austria and France on Saturday became the first two teams to book their EHF EURO 2024 tickets.
Hungary, Portugal and Slovenia also secured their spots in the final tournament on Sunday, but Serbia and the Czech Republic's hopes were dashed by Norway and Iceland.
















22:30
That's round 4 of the EHF EURO 2024 Qualifiers over - qualification will resume at the end of April with rounds 5 and 6. 
For the time being, check out all the standings here. There's so much to play for in a few weeks' time and we're very much looking forward to bringing you all the action then!
22:23
After an absolutely packed day of EHF EURO 2024 Qualifiers action, here are all our match reviews to get you up to speed with any games you missed.
22:12
So that's another three EHF EURO 2024 tickets booked, making it five for the weekend as a whole: Austria, France, Hungary, Slovenia and Portugal are all off to Germany next year. With two rounds to go that leaves 15 places still to be filled.
Here's some reaction from Hungary and Slovenia!
It was a great match for us, even with the little mistakes but everything went in a good way – we have to continue this kind of handball.
I would like to thank Koper and the fantastic crowd that breathed with the boys. Together we created a beautiful handball celebration. It was a tough, manly match. We were more convincing this time, but we still have to keep improving and focus on our game.
21:55 | FULL-TIME
What a game to finish the round with! It was exciting from start to finish, buoyed up by the loud support from the Croatian fans. 
Going into the last minute the Dutch had possession but Samir Benghanem was suspended for a clumsy foul on Domagoj Duvnjak. So Staffan Olsen called a timeout, taking off Bart Ravensbergen to play 6-0 in attack - but the attack failed. Ravensbergen had time to get back on court, but then it was Croatia's turn for a timeout with 30 seconds on the clock. An admirably calm Goran Perkovac gave his players their instructions and play resumed.
Duvnjak had a chance to shoot, but Ravensbergen saved it by the edge of his fingernails and Dani Bajens just ran out of time to score at the other end. It's a draw, our first of the round, and the Dutch in particular seem pretty happy. 
21:40
It's becoming a scrap for the ball at every moment as players throw themselves on the court. The Netherlands lead 25:23, eight minutes to go ...
21:35
It's 23:23, and there's less than 12 minutes to go. Goran Perkovac calls a timeout but at the moment, if this goes to a draw, we wouldn't be surprised.
21:27
A timeout for the Netherlands, with Staffan Olsen warning of the danger posed by Igor Karacic. It's 20:19 to Croatia and their goalkeepers, especially Dominik Kuzmanovic but also Marin Sego, are beginning to have an impact in an increasingly physical game. 
21:21
The two sides are exchanging goals now in a contest which is being cheered on loudly by the Croatian fans, who have rocked up to the Dvorana Gradski arena in Osijek in force to support their team. The Dutch lead 19:18 with 20 minutes to go, but it could be anyone's match.
21:13
We're back underway, and it's level after Marin Sego saved a Kay Smits penalty and the impressive young right back Mateo Maraš equalised for Croatia. 
20:58 | HALF-TIME
A 5:1 run for Croatia has got them right back into the game and it's all tightly balanced at the break. Whoever wins will go level with Greece on six points - the opponent for both sides in the next two rounds later this year. 
Dani Bajens currently leads the scoring, with four goals.

20:45
The Netherlands continue to lead with fast, nimble play and good defence - it's 9:14 as the clock ticks towards 24 minutes.
20:29
Spearheaded by the EHF EURO Qualifiers top scorer before this round, Kay Smits, the Netherlands have made a good start and lead Croatia 6:3 after 10 minutes.
Their 32:27 victory in Eindhoven last week was the first time the Dutch have beaten Croatia, and clearly it's given them tons of confidence.
20:12
One more game to go - Croatia vs Netherlands. It's live on EHFTV and the arena is sold out!
20:08 | FULL-TIME
Portugal have secured their ticket to the EHF EURO 2024 with their second win this week over North Macedonia and their fourth in the qualification tournament. All but three Portuguese field players found the net, five scoring four goals, and Gustavo Capdeville was on form.
Filip Kuzmanovski was the game's top scorer with eight goals from 13 shots, but Portugal's superior attack efficiency really paid off for the hosts.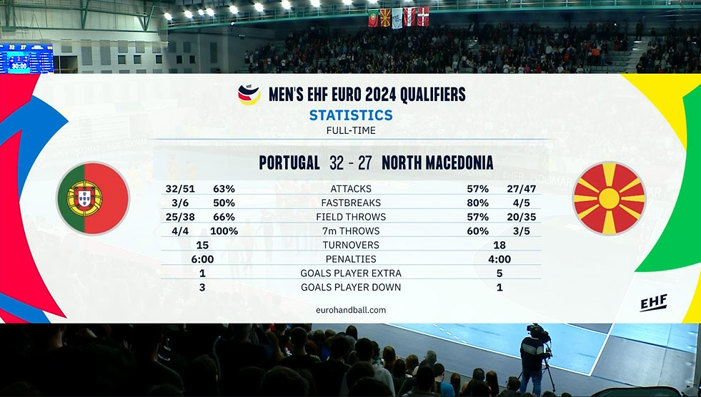 It's also four wins from four for Slovenia, who will play their 12th consecutive European championships next year. Rather like Portugal, all but three field players scored, although Blaz Janc was the standout with 10 goals. 
All but three of Montenegro's players scored too but they were led throughout the match, and lacked the ability to convert shots to goals.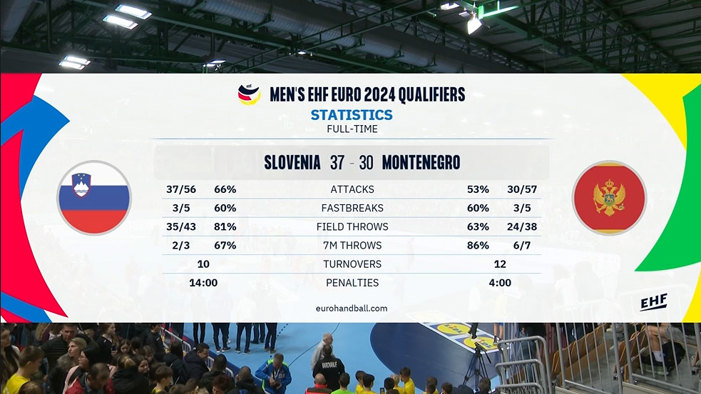 19:59
The Macedonians have closed back up to five goals, having earlier been led by nine, but Portugal seem to have done enough now to win the game with less than four minutes remaining.
Slovenia hold an eight-goal lead over Montenegro.
19:48
Both Slovenia and Portugal are zooming towards the EHF EURO 2024 now, with comfortable leads against Montenegro and North Macedonia respectively into the fourth quarters. 
19:40 | FULL-TIME
Spain's comeback was superb, but it was a bit too late and Sweden were able to cling on to a narrow victory as Tobias Thulin saved Agustín Casado's last two attempts at goal. 
Imanol Garciandia is Spain's top scorer with eight goals; Emil Mellegård scored seven for Sweden. Mikael Appelgren, before he was replaced between the posts by Thulin, stopped 10 shots (41.7 per cent). 
So Sweden stay top of the EHF EURO Cup ranking, with four wins from four games, ahead of Denmark, Spain and winless Germany.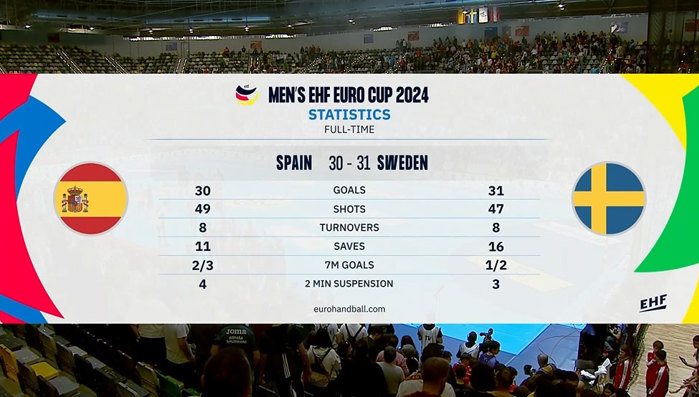 19:29
Spain were trailing by six goals. Now it's just one, as in typical warrior fashion they've got themselves back into the match with more than five minutes to play. Imanol Garciandia has scored eight from nine shots and Rodrigo Corrales is making some saves. Exciting times in the EHF EURO Cup!
19:19 | HALF-TIME
A superb end to the first half sees Portugal take a four-goal cushion to the dressing rooms. They prevented the Macedonians from scoring for the last five minutes, and Luis Frade and Leonel Fernandes spearheaded the attack. In reality, though, it's been an even and slightly scrappy match, and Portugal's place in the final tournament is by no means secure yet.
Blaz Janc's eight goals are key to Slovenia's narrow lead at the break; on the other side of the court, t's brothers Milos and Branko Vujovic who lead with four each. Montenegro are well in the game and you sense that if Janc stops firing, there's an opportunity for the visitors.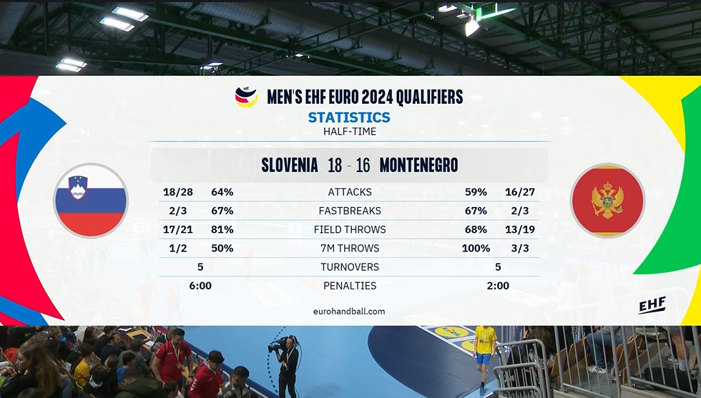 19:02
Martim Costa, the elder of the two brothers who have taken Portuguese handball by storm, falls awkwardly after being blocked while shooting and limps off court. His brother Francisco 'Kiko' Costa is not playing these two qualifier rounds due to injury.
It's 10:10 after 22 minutes and 30 seconds in a very close match.
18:52
A quarter of the way through the games in Slovenia and Portugal, and there's only one goal in it. It's a low-scoring affair in Portugal (5:4), while Slovenia lead Montenegro 10:9.
18:47 | HALF-TIME
Spain's stars - like Aleix Gómez, Alex Dujshebaev and Rodrigo Corrales - have not yet had an impact on the game, and the home team are lacking Sweden's effectiveness in attack. Mikael Appelgren is winning the goalkeeper battle too, which has helped Sweden to their four-goal half-time lead.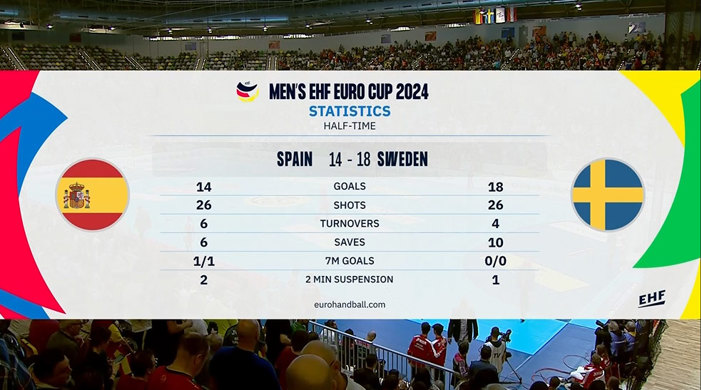 18:40 | FULL-TIME
That's an important win for Iceland - it gives them six points, level with the Czech Republic, and means the Czechs are not yet sure of their place in the final tournament. It's also Gunnar Magnusson's first win as coach for the team since Guðmundur Guðmundsson stepped down after the World Championship. 
Viggó Kristjánsson and Gisli Kristjansson top-scored with six goals each, and Viktor Hallgrímsson was outstanding with 15 saves from 26 shots (57.7 per cent). 
Matej Klima was the Czechs' top scorer, netting five times - including this beauty.
Another narrow win for Greece against Belgium keeps them in the running for a ticket. It was a solid all-round showing for Greece, whose slightly better attack and save percentages paid off.
Kosovo are left without a win still, while Bosnia Herzegovina add to their points - they're joint second with Montenegro now. Admir Ahmetasevic finished the game with 19 saves from 37 shots - 51.4 per cent.
Israel take their first win, hanging on to defeat Estonia by two goals. In a good team showing, four Israeli players scored five times, but Estonia's Mait Patrail netted six to be the game's top scorer.
18:30
Another two games are about to throw off - Portugal vs North Macedonia and Slovenia vs Montenegro. Both home teams have a chance to secure their place in the final tournament with a win. Portugal earned the opportunity after beating North Macedonia 29:23 away last week, while Slovenia defeated Montenegro 32:29 in Podgorica in a rollercoaster match.
18:21
At 5:9 down, Jordi Ribera calls a time-out. Sweden beat Spain last week and also in the EHF EURO 2022 final - but not in the 2023 World Championship bronze-medal match. Games between these two are always interesting, and Spain will always fight until the end. The difference so far is between the posts, with Mikael Appelgren really on form and Rodrigo Corrales really not - Sweden have made a few technical errors, but Spain's goals are being stopped.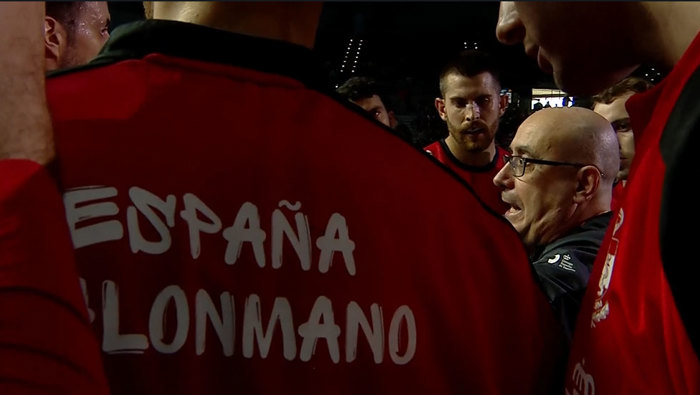 18:13 | FULL-TIME
No mistakes today from Norway, who wrap up their third win of the EHF EURO Qualifiers with a 10-goal victory. It was almost 11, but a Tobias Grøndahl penalty after the buzzer hit the posts. 
That means Norway and Serbia are level at the top of group 2 with six points each, with Norway ahead substantially on goal difference. Serbia's hopes of progressing today are dashed.
Better efficiency in attack and defence were key today for Norway.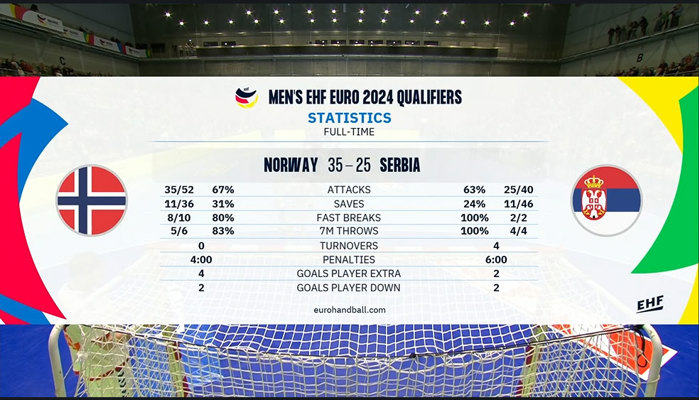 18:05
As the games have resumed, Iceland continue to lead the Czech Republic - now by four goals. Israel extend their lead over Estonia and Bosnia against Kosovo, but Belgium and Greece are locked in a contest which is impossible to call.
Even an impressive Milan Bomastar between the Serbian posts cannot stop Norway, who are cruising to victory.
17:55
A series of goals by Harald Reinkind - and Sander Sagosen still showing up - have given Norway a 26:19 lead now against Serbia. It's looking good for the EHF EURO 2020 bronze medallists.
Meanwhile, Spain are about to throw off against Sweden in the EHF EURO Cup, an always-anticipated rematch of the 2022 European championship final!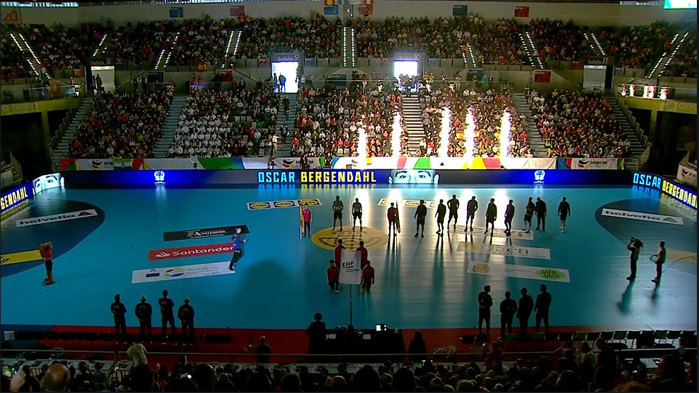 17:45 | HALF-TIME
Gisli Kristjansson is displaying some of the form he's shown in the Machineseeker EHF Champions League for SC Magdeburg and has led his side to a 15:12 lead over the Czechs. The switch in goal from Björgvin Pall Gustavsson to Viktor Hallgrímsson has been key for Iceland. The Czech Republic must step up a gear if they want to book their EHF EURO ticket today.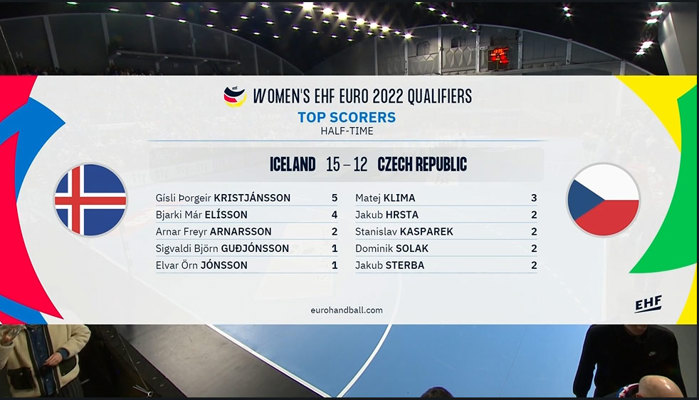 Currently it's a three-way tie in group 5 on points, and Greece put themselves in a strong position if they can beat Belgium today. The Red Wolves are yet to win a match. However, one goal at half-time is nothing ...
Bosnia Herzegovina won the reverse leg of this Balkan derby 25:22 to take their first points of the qualification tournament, and they're on track for another win today. Bosnian goalkeeper Admir Ahmetasevic has made an incredible 12 saves (63.2 per cent), eclipsing a pretty solid eight saves (44.4 per cent) from Kosovo's Haris Berisha.
Estonia have slowly got themselves back into a game which Israel looked like running away with early on. It's now a fairly even match in Tel Aviv, as indeed was their first encounter which Estonia won 30:28. 

17:30 | FULL-TIME
Hungary are through to the Men's EHF EURO 2024 after another dominant performance over Switzerland and their fourth victory in total. A total of 10 Miklós Rosta goals and a strong showing by Martón Székely helped make the difference.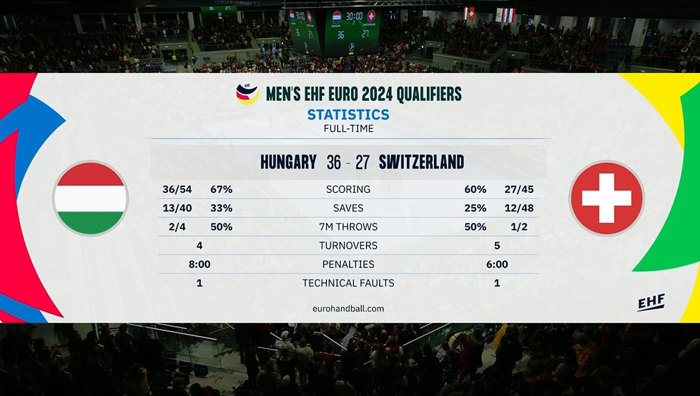 Slovakia earn their first points and put themselves level with Finland in the rankings. It was a good outing for the home team, with the majority of players finding the net. 
Finland's Max Granlund was top scorer with seven goals; goalkeeper Mikael Mäkelä was unable to replicate the form which took the Nordic side to a win last week.

17:25 | HALF-TIME
After arguably being caught napping on Thursday, Norway have shown up today. In particular, Sander Sagosen is showing his quality with eight goals from nine shots. In fact only five Norwegian players have got on the scoreboard, but when Sagosen is on form, does it matter?
The question will be whether Serbia can produce the same sort of second half as they did the other day.


17:22
Iceland lead 10:8 as the Czechs take a timeout. It's better from the home team than the other day, but Björgvin Pall Gustavsson had a terrible start - things have improved since new coach Gunnar Magnusson switched in Viktor Hallgrímsson.
17:17
A booming shot by Dominik Mathé! Hungary consistently hold on to that 10-goal lead and Switzerland are unable to claw anything back.
17:10
Coming into the fourth quarter, Hungary have all but booked their EHF EURO spot - they lead Switzerland 28:18. Miklós Rosta has netted 10 times already, missing just one shot.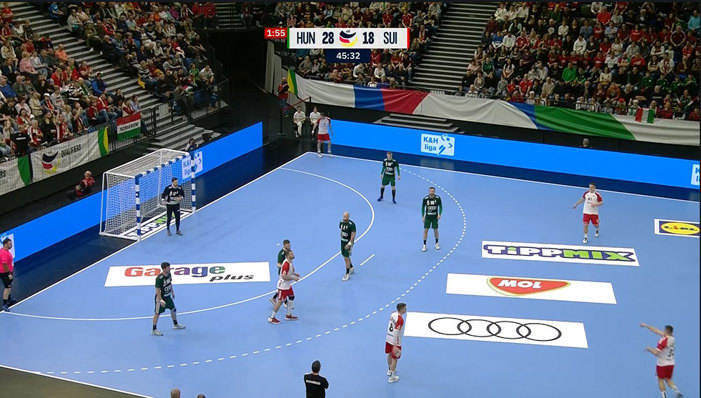 17:03
Stat of the day so far? In the first 10 minutes of Norway's game, Sander Sagosen was the only player from the home team to score, netting four times.
Norway now lead 8:6 as more players find the net.
16:55
In case there wasn't enough handball on right now, another four games are about to throw off, all at 17:00 CET: Israel vs Estonia, Greece vs Belgium, Iceland vs Czech Republic, and Bosnia & Herzegovina vs Kosovo.
Iceland vs Czech Republic is the one to keep an eye on, because if the Czechs can beat Iceland again they're through to the final tournament. It's a battle between two sides with strong defences and excellent goalkeepers. After a disappointing World Championship and a change of coach, Iceland will be wanting to bounce back today in Reykjavik.
16:46
Serbia sensationally beat Norway last week, 25:24 with a buzzer-beater. The Norwegians are looking for home turf revenge today, and they are about to throw off! Watch here on EHFTV.
16:44 | HALF-TIME
If Switzerland had hopes of finding a way to beat Hungary, after losing in the week's Highlight match, those must surely be fading. The Tatabanya crowd are being treated to a strong showing by their team, who are more aggressive and more accurate. If they can keep this margin Hungary are off to Germany!
There's an up-and-down match in Hlohovec. At one point Finland led by three goals, before Slovakia took the lead, but it was the visitors who went to the locker rooms in front. Last week Finland won by three, but it's by no means clear yet who has the upper hand here. Both goalkeepers are on identical save rates (six from 19 shots). 


16:35 | FULL-TIME
Lithuania celebrate their first win of the EHF EURO 2024 Qualifiers, avenging themselves for the 18:32 loss in Tbilisi. Gerdas Babarskas was the star with 11 goals from 14 shots.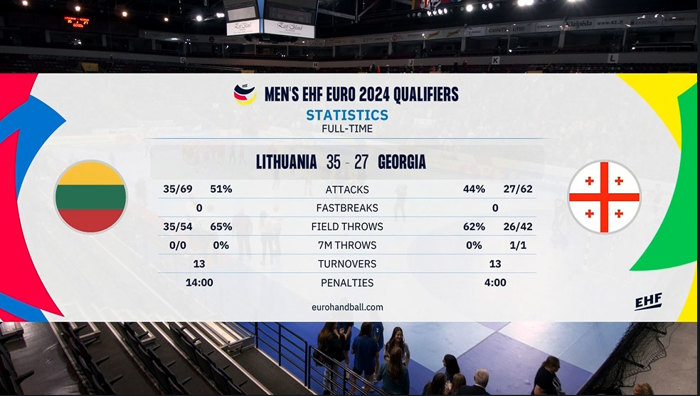 An emotional, and big win, for Türkiye who never let their foot off the gas despite Luxembourg's best efforts. It's their second win against Luxembourg in a week. Luxembourg's goalkeepers struggled to stop many shots, while Türkiye's were on form. The top scorer was 22-year-old right wing Sevket Yagmuroglu with seven goals, followed closely by captain Samet Kanberoglu with six. Safe to say, the Turks did Cemal Kütahya proud.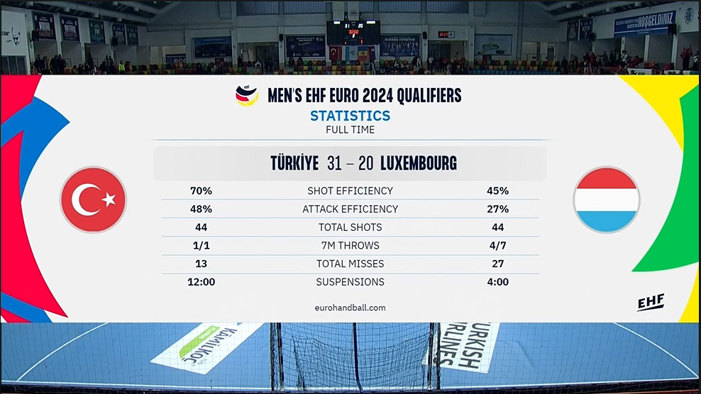 16:18
We're seeing some amazing goalkeeping today. Márton Székely has shut up shop for Hungary - he's currently on a save efficiency of 66.7 per cent, with six saves from nine shots in less than 15 minutes. Hungary had a good World Championship this year and seem to have carried that confidence into these qualification games. 
16:10
Türkiye continue to dominate Luxembourg, now leading 24:12; Lithuania have also extended their advantage over Georgia to 23:16 and look confident.
Hungary have an early 4:2 lead against Switzerland, while Slovakia lead Finland 4:3.
15:57
Don't go anywhere - the action continues with two more games throwing off at 16:00 CET. It's Slovakia vs Finland and Hungary vs Switzerland, with Hungary going for an EHF EURO ticket.
15:50 | FULL-TIME
Another seven-goal victory for Denmark in the EHF EURO Cup, making things look pretty easy. Juri Knorr was incredible, scoring nine goals, and Andreas Wolff made some important saves which meant Denmark were unable to take a bigger win. Still, it was a dominant showing by the world champions, although they were missing Mikkel Hansen and Simon Pytlick who are both taking time out for mental health. Emil Jakobsen with six goals from six shots, Mathias Gidsel with three goals and three assists, and a solid Emil Nielsen between the posts helped an efficient Danish side take the win.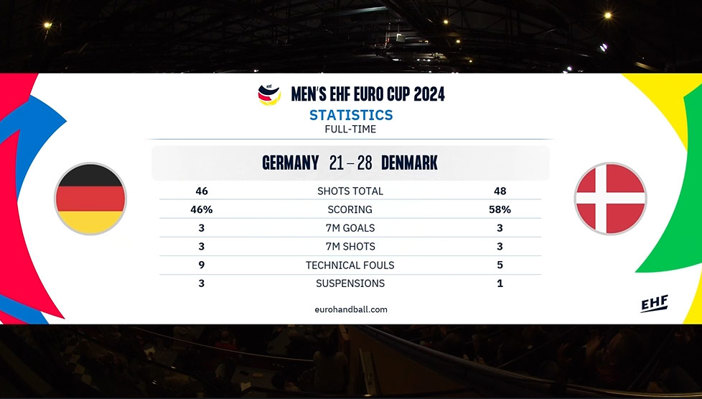 Italy move level on points with Poland and keep their EHF EURO dreams very much alive. Both Italian goalkeepers were on form, each saving eight of 19 shots (42 per cent), and that helped Italy beat Latvia despite an outstanding Maris Veršakovs (eight goals). The lack of Dainis Kristopans showed for the hosts.
15:40 | HALF-TIME
An astounding first-half performance from Giedrius Morkunas sees the Lithuanian goalkeeper make 12 saves from 21 shots (57 per cent). Six goals by Gerdas Babarskas on top of that means the hosts are looking strong in search of their first win.
Luxembourg looked like they might get back into the match, but Türkiye held on and have a big lead at the break. It's a good team performance from the hosts, with nine players on the scoreboard.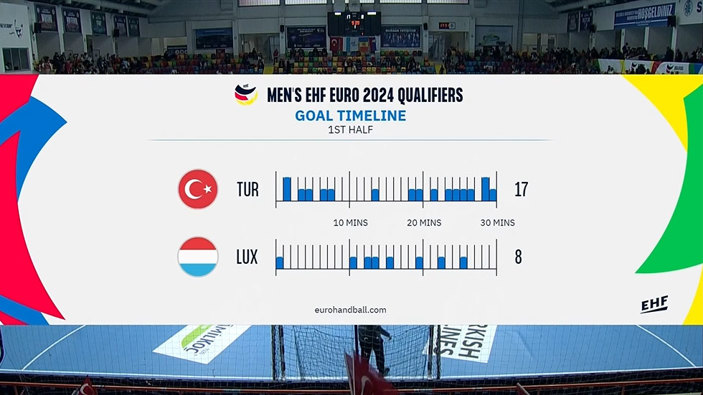 15:34
Denmark are heading towards their biggest win over Germany, if they can hold on to the eight-goal lead they currently have. It's a really low-scoring game, with Germany managing just five goals in this half. Too many mistakes, set against a good Danish side, are just incredibly costly.
15:27
Mathias Gidsel may have scored just one goal but he's been essential to Denmark's lead - he's always there to hand off the ball to someone else. Denmark lead 20:15 with a quarter of the game to play.
Elsewhere, Georgia have recovered from their terrible start and now lead Lithuania 7:6; Luxembourg have also recovered somewhat, but Türkiye lead 9:6. Italy have a 24:19 advantage with 10 minutes to go.
15:15
What to focus on?
Well, Germany have made a good restart in Hamburg, attacking hard and with another couple of Juri Knorr goals to bring them back to 13:16.
Italy look like they're taking control against Latvia, now with a 19:15 advantage.
Georgia have just scored their first goal after 10 minutes of play against Lithuania - the hosts are chasing their first points and if they carry on like this, they'll get them. Meanwhile Türkiye already have a commanding 6:1 lead over Luxembourg.
15:03
Two more games are about to throw off - Türkiye vs Luxembourg and Lithuania vs Georgia. In Konya, there's an emotional moment as the Turks remember their captain Cemal Kütahya, who died in the recent devastating earthquake. This is the first international game in Türkiye since that tragedy and as EHF journalist Björn Pazen found out this week, Kütahya's teamates are playing for him today.
14:57 | HALF-TIME
Latvia have kept pace with Italy much better today than in the reverse fixture, but it's still the visitors who hold the lead. 
Experienced centre back Maris Veršakovs and the young Italian back Giacomo Savini lead the scoring with four each; in goal, Mate Volarevic replaced Domenico Ebner and has made four saves from six shots, adding to four from 13 for Ebner. Edgars Kuksa started well but has also made only four saves now from 22.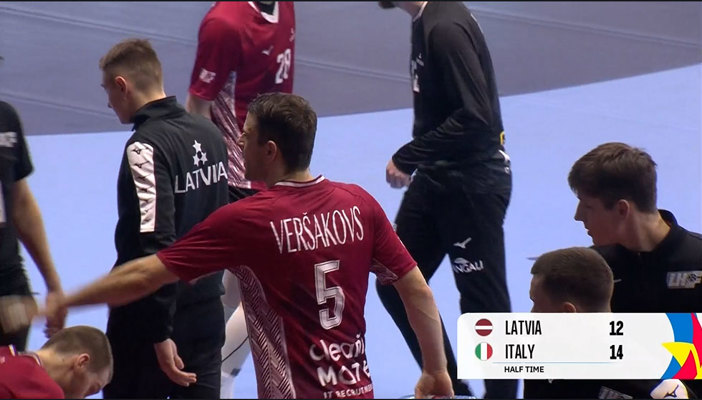 Andreas Wolff and Juri Knorr are doing their best to keep Germany in this game - Wolff has been strong wit nine saves from 13 sots (39 per cent), while Knorr has netted four goals. But Denmark, led by a rampant Emil Jakobsen, look too good and are countering every German move with another goal of their own.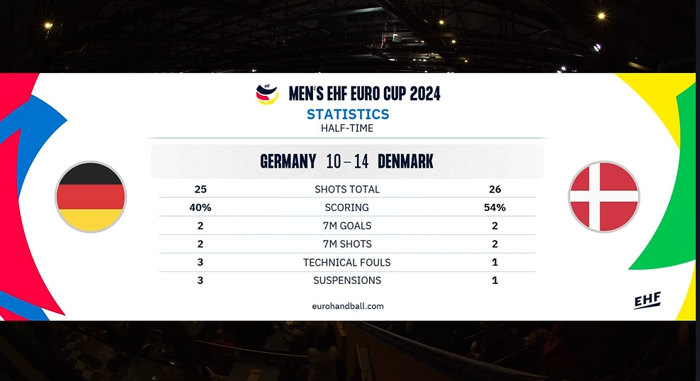 14:42
Germany need a few more shots like this. Denmark lead. Emil Jakobsen and Thomas Arnoldsen have both scored three times, but Juri Knorr just netted his third - a penalty - to make it 6:9.
14:36
Latvia are playing much better at home than they did in Italy, and lead 10:8 after 20 minutes (it was 15:10 to Italy at the break in round 3). 
Once again both goalkeepers are playing brilliantly, keeping things tight.
14:34
Denmark have their first lead at 6:5 and in the middle of a long Danish attack Nicolaj Jacobsen calls a timeout, which results in a nice goal for Thomas Arnoldsen. 7:5 to Denmark - what can Germany do?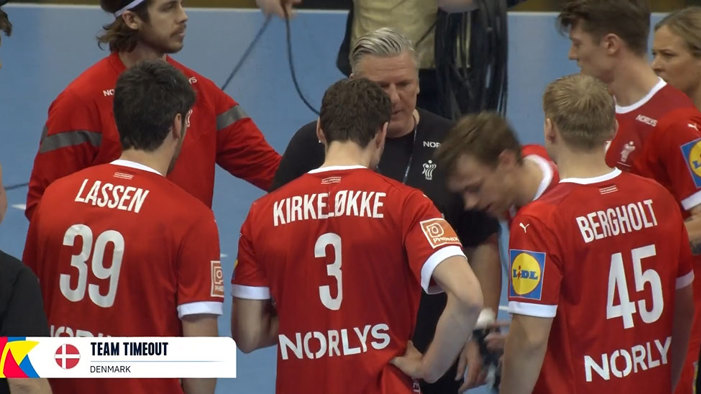 14:26
Germany have started well, but Denmark keep pace and have used a two-minute suspension for Paul Drux well to draw level at 4:4.
It's also 4:4 between Latvia and Italy. Latvia are still looking for their first win of the Qualifiers.
14:17
Latvia and Italy are underway. In Hamburg, there's a minute's silence for the victims of last week's shooting in the city.
14:00
Today's Highlight match is between EHF EURO 2024 hosts Germany and world champions Denmark, at the Barclays Arena in Hamburg. The 13,300-capacity arena will host the final tournament's main round. Germany will be hoping for a good turnout to boost their chances against Denmark, who beat them 30:23 in Aalborg on Thursday.
The game is also a chance to see some of handball's most exciting young talents, including world and Olympic MVP Mathias Gidsel and Lukas Jørgensen of Denmark, and Juri Knorr of Germany, go head-to-head. Gidsel of course already plays in Germany, for Füchse Berlin, and it was announced last week that Jørgensen will transfer to SG Flensburg-Handewitt in the summer together with Simon Pytlick. Pytlick is missing today's game to take a mental breather.
13:50
Yesterday, France and Austria celebrated booking their tickets to Germany next year. Today, another five sides could join them: Portugal, with victory over North Macedonia; Serbia, if they beat Norway; the Czech Republic if they defeat Iceland; Hungary, with a win over Switzerland; and Slovenia, should they be victorious over Montenegro.
All five won the reverse fixtures during the week, but those sides now playing away may find securing their berth trickier than the teams with home games today.
13:35
Welcome back to the Men's EHF EURO 2024 Qualifiers live blog for a packed Sunday of handball - to start with, here's the full schedule:
14:10 CET, Latvia vs Italy
15:00 CET, Türkiye vs Luxembourg, Lithuania vs Georgia
16:00 CET, Slovakia vs Finland, Hungary vs Switzerland
16:45 CET, Norway vs Serbia
17:00 CET, Israel vs Estonia, Greece vs Belgium, Iceland vs Czech Republic, Bosnia & Herzegovina vs Kosovo
18:30 CET, Portugal vs North Macedonia, Slovenia vs Montenegro
20:15 CET, Croatia vs Netherlands
And in the EHF EURO Cup:
14:15 CET, Germany vs Denmark
18:00 CET, Spain vs Sweden

SATURDAY 11 MARCH
23:25
And with that we're closing our live-blog coverage for the day. Stay tuned as we've got a total of 15 more matches scheduled for what will really be an action-filled Sunday! Have a great night!
Plenty of interesting action 🔥 in today's #ehfeuro2024 Qualifiers and these are the results 🔎

💥 The most intense battle: _____? 💭#heretoplay pic.twitter.com/0GM5e3U0w0

— EHF EURO (@EHFEURO) March 11, 2023

23:16
After the first matchday of the round 4 of the EHF EURO 2024 Qualifiers, we've found out the names of the first two countries to book a spot in Germany in January of 2024, and it's going to be Austria and France. 

Tomorrow, we have a busy day ahead of us with a total of 13 EHF EURO 2024 Qualifiers games, to go along with two EHF EURO Cup clashes. 
And as we're bringing our live-blog coverage for the day to a close, we've got a celebration video for you coming from Linz, Austria after the win over Ukraine. 
That feeling when you qualified for #ehfeuro2024 🕺 @HandballAustria deserve to celebrate tonight 🥳 pic.twitter.com/3MT5gBkf31

— EHF EURO (@EHFEURO) March 11, 2023
23:07
As always, feel free to go through our reviews and read everything about the matches we've seen and what the results mean going forward. All the stats, facts and figures are included!
23:00
With both of our evening matches behind us, it is time to have a quick look at some of the best photos from Linz and Aix en Provence. 






22:52
In the moments when Poland was pushing in the second half, Charles Bolzinger delivered his part including this great 1-on-1 save. 
Goalkeepers are definitely stealing the spotlight tonight 🔦⚡️

Look at this wonderful save by Charles Bolzinger 💥#heretoplay pic.twitter.com/dHg197xKOj

— EHF EURO (@EHFEURO) March 11, 2023
22:45
With the win over Poland, France has managed to become the second team, after Austria did it just a bit earlier today, to book a spot on the EHF EURO 2024. 
That means we now already have six countries that will in the January of 2024 fight for the EHF EURO title - hosts Germany, medalists from the EHF EURO 2022 - Spain, Sweden, and Denmark, as well as Austria and France. 
It's 🎉 celebration time 🎉 for France, who secure their spot at the final tournament after a fantastic performance against Poland.

French fans, how far do you think your team will get at #ehfeuro2024? ✍#heretoplay pic.twitter.com/GwhwvOtfEJ

— EHF EURO (@EHFEURO) March 11, 2023

22:37 | FULL-TIME
With two matches to spare, France has managed to book a spot on the EHF EURO 2024 with a win over Poland in Aix en Provence. Dylan Nahi and Dika Mem finished the match with five goals each, while Jan Czuwara netted just as much for Poland. Adam Morawski delivered a splendid performance with 16 saves. 
22:34
Only three minutes left until the end, and Maciej Gebala scores his second of the night to bring Poland to -2 (27:25) in southern France. 
22:23
With just over ten minutes left to play, France is leading 24:22. Poland is however pushing on wings of a quality performance from their goalkeeper Adam Morawski who has 14 saves at this point. Everything is still pretty much open. 
22:17
With the win over Ukraine, Austria has managed to become the first team to secure a ticket for the EHF EURO 2024 through the Qualifiers.
Mission accomplished ✅

🎖 Austria book their place at the EHF EURO 2024 after tonight's victory against Ukraine (31:28). #ehfeuro2024 #heretoplay pic.twitter.com/Iqlg0B0qD1

— EHF EURO (@EHFEURO) March 11, 2023
22:07
Five minutes into the second half, France has managed to double their half-time lead, and they are now 20:16 ahead. 
21:57 | FULL-TIME
A much better display from Ukraine, compared to the one they delivered a few days ago, but in the end a win for Austria which helps them become the first team to book the ticket for the EHF EURO 2024. 
Nikola Bilyk finished the match with six goals, while Thomas Eichberger grabbed 11 saves. Ihor Turchenko scored eight for Ukraine. 
21:54
A four-goal lead for Austria, as we're entering the final two minutes of the encounter in Linz. 
21:45 | HALF-TIME
Although Poland is looking much better, especially in defense, today than a few days ago, France has +2 going into the break. Dika Mem, Kentin Mahe, and Dylan Nahi are leading France with three goals each, while Jan Czuwara has five for the guests. In a battle of defense, Adam Morawski (9) is leading Vincent Gerard (8) after the first 30. 
A quick look at the stats, at the end of the first half.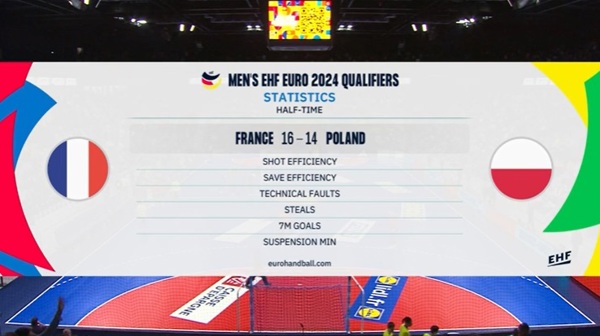 21:42
Adam Morawski is shining for Poland so far in this one with just over 36% of saves as it stands. 
Strong performance by Adam Morawski in the first half 💪

His save percentage at the break = ____%? #ehfeuro2024 #heretoplay pic.twitter.com/0nyVl5qoh5

— EHF EURO (@EHFEURO) March 11, 2023
21:38
With about five minutes left on the clock in the first, France leads 14:11.
In Linz, hosts have managed to overtake the lead at 26:25 with just over ten minutes until the final buzzer. 
21:30 
Dika Mem and Dylan Nahi are running the offense for France at the moment scoring three goals each. For Poland - Jan Czuwara, Arkadiusz Moryto, and Szymon Dialakiewicz have scored two each. France 10, Poland 9. 
21:20
At the seven-minute mark it's 4:2 in favor of the hosts in France. Two goals for Ludovic Fabregas so far, and on the other side - four saves for Adam Morawski. 
In Linz, Ukraine still in front. It's 15:17 with just over 25 minutes left until the final buzzer. 
21:13
Ludovic Fabregas scores the opener, Dylan Nahi punishes an offensive turnover and France takes a 2:0 lead. 
21:07
The atmosphere is heating up in Aix en Provence as the hosts take on the court in front of about 6,000 spectators.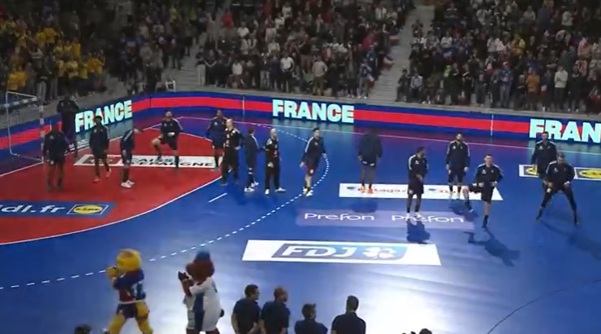 Watch the game live on EHFTV (geo-restrictions may apply), and stay with us for the live coverage!
21:05 | HALF-TIME
After a seven-goal loss only a few days ago, Ukrainians have obviously managed to find a way to slow down Austria. At the half, they are three goals ahead with Ihor Turchenko leading the way with four goals. Gennadii Komok has seven saves. 
20:53
As we're approaching the final five minutes of the first, Ukraine has a three-goal lead (8:11). Turchenko is leading the way offensively with three goals, while Komok has six saves.  
20:45
Mykola Bilyk looking really smooth with it early!
Who says handball and dancing have nothing in common? 🤔

Mykola Bilyk spins and scores beautifully for @HandballAustria 🌪#ehfeuro2024 #heretoplay pic.twitter.com/AzJD1HTqu2

— EHF EURO (@EHFEURO) March 11, 2023
20:40
We've just passed the ten-minute mark, and the result is 5:6 in favor of the guests. The best scorer of the EHF European League season so far, Motor's Ihor Turchenko is leading Ukraine offensively with two goals.   
20:30
Two saves in a row for Gennadii Komok, and a goal for Dmytro Ilchenko as Ukraine takes a 1:0 lead in Linz. Defenses are looking really well on both sides with only one goal scored in the opening four minutes of the encounter. 
20:21
With just under five minutes to go until the first whistle, the stage is all set in Linz, Austria. 
20:15
In their premier encounter of the EHF EURO Qualifiers a few days ago - Tobias Wagner, Boris Zivkovic and Mykola Bilyk combined for 22 goals leading Austria towards a comfortable 38:31 win in the end. Today, it will be interesting to see whether Ukrainians have, in only a few days time, managed to find a formula to slow the upper-mentioned trio down and try to achieve a positive result on the road. 
20:07
Today, we might end the matchday having first two teams that have managed to book a ticket for the EHF EURO 2024. Austria has a chance to become the first team to do so, in case they manage to defeat Ukraine at home. Later on, France has the same opportunity in case they end up celebrating versus Poland. 
19:55
And while we're waiting for Austria and Ukraine to take the court in Linz, feel free to have a quick look at some of the best plays from our first match of the day in which Romania managed to take revenge for the road loss against Faroe Islands only a few days ago. 
Check out full highlights from our first match of the day between Romania and the Faroe Islands. #ehfeuro2024 #heretoplayhttps://t.co/qMB3amzhhB

— EHF EURO (@EHFEURO) March 11, 2023
19:45
Speaking about the upcoming game against Ukraine at home, experienced Austrian international Robert Weber was cautious despite the convincing win on the road only a few days ago. 
To be honest, I have to say I was actually a bit surprised with how clear the result was in the end of our first encounter with Ukraine. We can now play with much less pressure in Linz, as we are currently sitting on top of the standings. Of course, we have to remain cautious and enter the game with the same level of focus and motivation as on Thursday. We're looking forward to playing in front of our fans here in Linz.


19:35
Live blog is up and running again as we have two more games coming up today including the highlight match of the round between France and Poland starting from 21:10 CET in Aix en Provence. Before that, we'll see the reverse fixture between Austria and Ukraine (20.25 CET).
18:00
Here are a few photos of the Romania-Faroe Islands match. Take a break and come back in a couple of hours for more action in the Men's EHF EURO 2024 Qualifiers.






17:35 | FULL-TIME
Romania 25:17 Faroe Islands
In the end, Romania get revenge in a comfortable victory. They are in second place for the time being with four points. The Faroe Islands are now in last place because Ukraine hold the tiebreaker due to winning the first match over the island nation.
17:25
We are in the final stretch of the match, and it is a foregone conclusion: Romania will be the victors in this match. The question is how much will the margin of victory be, and that could be a factor in determining who will advance in this group.
17:12
It is looking grim for the Faroese. Despite calling a timeout, things have gone from bad to worse as Romania reinforce their lead. It is possible Romania could win this match with a double-digit margin. They are only one goal away from doing so.
17:03
The Faroe Islands scored the first goal of the half, but it has been Romania who have all the momentum, currently having possession of the ball after restoring their biggest lead of six with eight minutes elapsed.
16:42 | HALF-TIME
Romania 14:10 Faroe Islands
It has gone pretty well for the home team so far. After an even start the Romanians took better advantage of their chances and had a six-goal lead at one point. However, the Faroe Islands managed to cut the deficit to four before halftime.
Both keepers have seven saves each, but Romania's Ionut Iancu had five fewer shots to block compared to Faroese keeper Nicholas Satchwell who had 21 shots to parry.

16:35
Romania have managed to obtain a six-goal lead with almost three minutes to play. Romania seem well on their way to exacting revenge, but you have to remember that the Faroese had the upper hand in the first half as well before losing their lead, so there's plenty of time to change the outcome.
In the meantime, check out this goal from Roi Berg Hansen.

16:18
Ionut Iancu has come up with a couple of saves to stem Faroese progress, forcing the islanders to call a timeout. Unfortunately for them, Iancu saves a point-blank shot and Romania adds another goal to now lead 7:4.
16:10
It has been an even game so far, both teams have split goals and even suspensions as the score remains at 3:3 with seven minutes played.
16:00
Both countries have had their national anthems sung and we're seconds away from the first throw. On another note, here is the schedule for today's games.

15:30
Welcome to the live blog for the Men's EHF EURO 2024 qualifiers round 4! We have a busy schedule for you this weekend, although tomorrow will be more action-packed with 13 matches.
The Faroe Islands caused a sensation in the last round, defeating Romania at home 28:26. Nevertheless, credit is due to the Romanians who were down by six at half-time yet managed to tie the game midway in the second half. The result left three teams tied with two points each. Can Romania avenge their round 3 loss to the Faroese?
In the same group, Austria won their first encounter against Ukraine 38:31, keeping their flawless record intact and reinforcing their advantage over the other three teams. Linz will be the site of today's meeting and also celebrations from the Austrians if they win today's match and book their ticket to the tournament next door in Germany.
Last but not least, our featured match this weekend showcases World Championship runners-up France and Poland in group 8. France maintained their perfect form in the competition by defeating Poland 38:28 in Gdansk. Like Austria, a win for France in Aix de Provence will clinch their spot in next year's Euros.