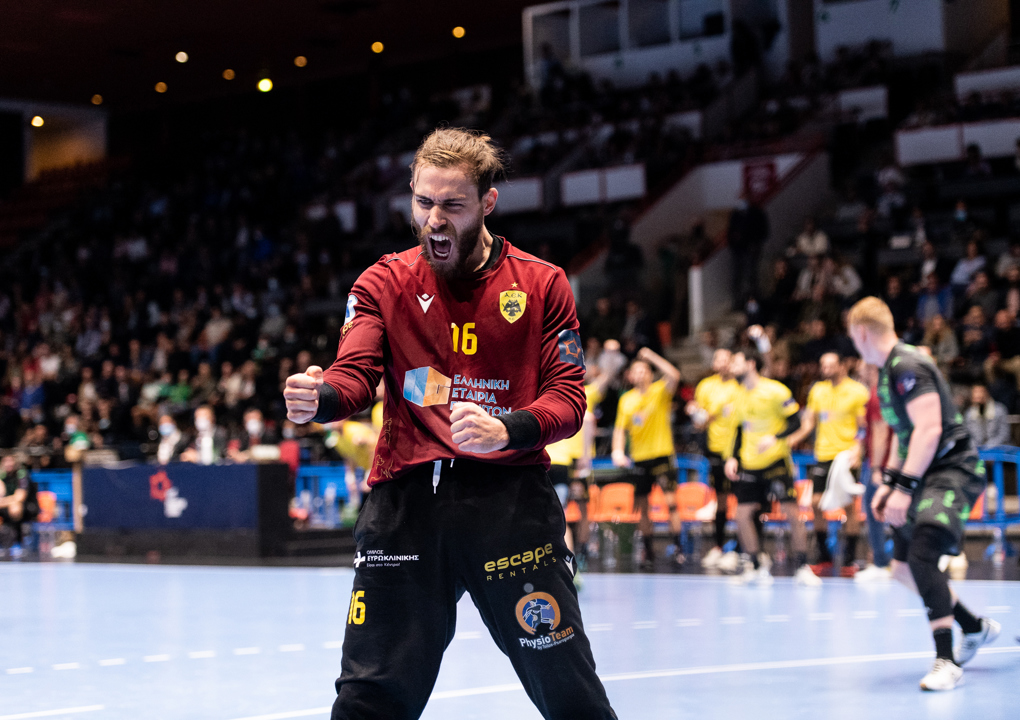 Summary: AEK stun Nimes, Lemgo leave Nantes with a big win
The EHF European League Men 2021/22 returned to action Tuesday with round 2 of the group phase. Among the 12 matches, there was some late drama and brilliant second-half comebacks








22:58
We'll wrap it up for the night with some of the best images from today's matches. Thanks for joining us today, we'll be back with more European League action on 16 November. Goodnight!
22:29
With a full two rounds played, only eight teams have a perfect winning record in tact. How many of these would you have predicted before the start of the season? I would guess about five.
Plock, Berlin, GOG, Benfica, Nexe, Magdeburg, Sporting, AEK.
22:19
And we have hit full-time in all of our late matches, besides Lemgo, it was a case of home wins all around. Benfica and La Rioja didn't have it all their own way, Irun seemed in control throughout, while Berlin cantered to victory with Milos Vujovic having a field day in front of goal, finding the back of the net 10 times.
SL Benfica 38:35 Chekhovskie medvedi
BM Logroño La Rioja 31:26 RK Gorenje Velenje
Füchse Berlin 36:23 TATRAN Presov
Bidasoa Irun 32:28 Pfadi Winterthur
HBC Nantes 27:28 TBV Lemgo Lippe
22:14
It ends 28:27 and Lemgo hold on to score the two points and the jubilation at the final buzzer shows just how much it means to them.
A brilliant performance by Jonathan Carlsbogard drove Lemgo all night, seven goals from the Swedish international and important contributions at both ends.
22:12
Lemgo restore a three-goal lead with two minutes remaining and look set to claim their first win of the group phase now!
22:04
Lemgo looked home and dry a few minutes ago with a 25:19 lead but suddenly that has been cut to 25:22 and there is life in this encounter yet! 6 minutes left on the clock and the guests need a goal...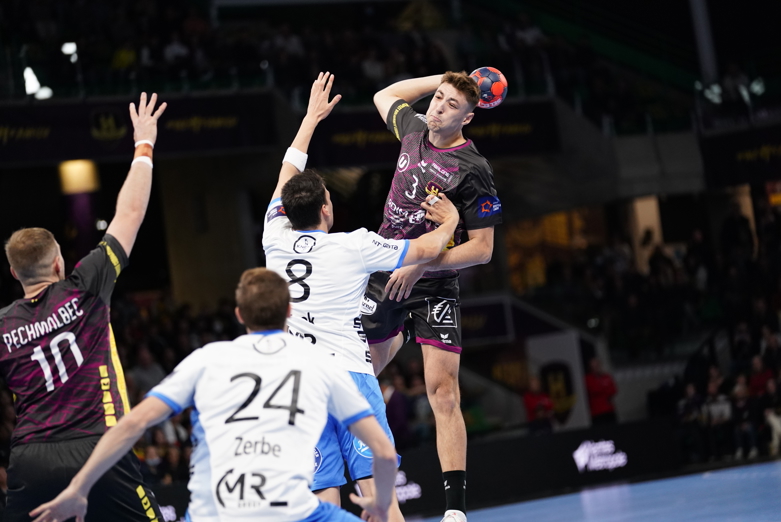 21:58
Five goals in the second half alone from Alexander Kotov have dragged Chekhovskie medvedi back into their contest with Benfica. The Portuguese side appeared to be cruising but now have a real game on their hands - 30:28 with 14 minutes left to play.
21:54
This game continues to twist and turn. Lemgo find their grip on the game again and open up a 20:17 lead. It's never a straightforward night when Nantes are involved and that is what makes them so entertaining to watch as a neutral.
21:44
HBC Nantes begin the second half like a team possessed and score four in a row to lead 14:12. Lemgo respond with a timeout, which appears to have steadied the ship but they will be irritated to let their lead slip so easily.
21:35
We're about to get the second half underway and it'll be interesting to see if the Nantes vs Lemgo game opens up more in this period. Peter Johannesson has been in impeccable form between the posts for Lemgo with a 44% save rate but Nantes' Robin is not far behind him.
"If it was not for Mickael Robin, the game would be already be almost lost for Nantes. Lemgo keep on upsetting the best teams in Europe and tonight they are rolling over the French, who have been missing too many occasions on offence.
"Let them just hope that they do not regret missing the opportunities to put the nail in the coffin come the end of the evening," says EHF journalist Kevin Domas.

21:30
Reflecting on La Rioja's turnaround in the first half, here is what EHF journalist Danijela Vekic has to say:
"It seemed like everything was on Velenje's side tonight with an efficient attack and good defence. La Rioja woke up around the 20th minute and made a great comeback. With a four-goal run and Tomas Moreira Rodriguez on fire, backed up with superb saves by Aliaksnadr Makrelau, they took an 18:14 lead.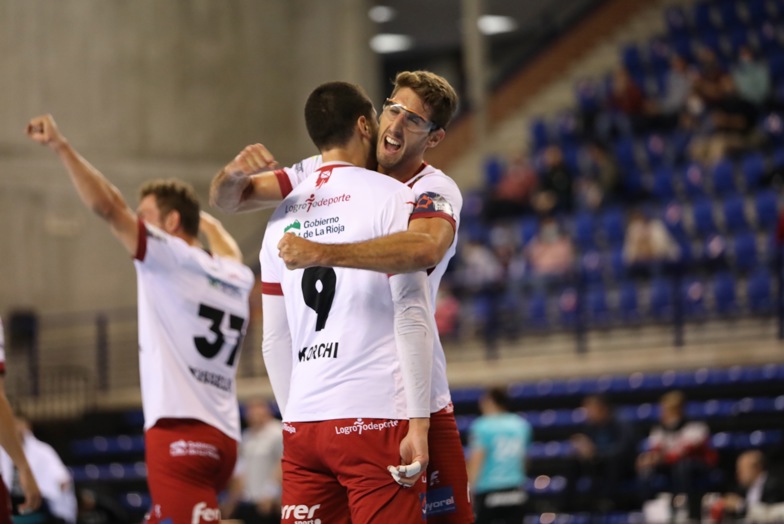 21:26: HALF-TIME
So this is where we stand as the half-time buzzer sounds across Europe. Only Lemgo defending the honour of away teams at the moment, with the rest of the contests looking fairly comfortable for the home players and fans. As we've already seen tonight though, a lot can change in the second half.
SL Benfica 21:15 Chekhovskie medvedi
BM Logroño La Rioja 18:14 RK Gorenje Velenje
Füchse Berlin 18:12 TATRAN Presov
Bidasoa Irun 16:10 Pfadi Winterthur
HBC Nantes 10:12 TBV Lemgo Lippe
21:19
The second quarter is when we're used to seeing HBC Nantes make a move and so it has transpired tonight. A pair of Mickael Robin penalty saves have inspired 'Le H' into making a bit of a comeback. Lemgo still lead, however, 11:9 with a couple of minutes left in the half.
21:14
La Rioja took their time but have finally arrived at the European League party. A six-goal turnaround in 12 minutes gives them a 15:13 lead over Velenje with 5 minutes left in the half.
21:06
The early trouble for Nantes continues. They are struggling to create clearcut chances and Jonathan Carlsbogard is running them ragged with four goals already - 10:5 to Lemgo with 18 minutes played.
20:59
In Spain, Gorenje Velenje are putting away every chance they get and have opened up a 10:7 lead away to La Rioja. Having conceded a huge defeat to Sävehof last week, the Spanish side need to find a way to tighten up if they are to stand a chance tonight.
20:51
It has been a brilliant start to the match for Lemgo, displaying rock hard defence as they open up a 3:0 lead. Aymeric Minne finally breaks down their resistance almost six minutes into the contest.
20:45
Our focus on the blog will begin with last season's EHF FINAL4 participants HBC Nantes at home against German Cup winners Lemgo. Plenty of familiar faces and a raucous crowd on show here, perfect for a Tuesday night!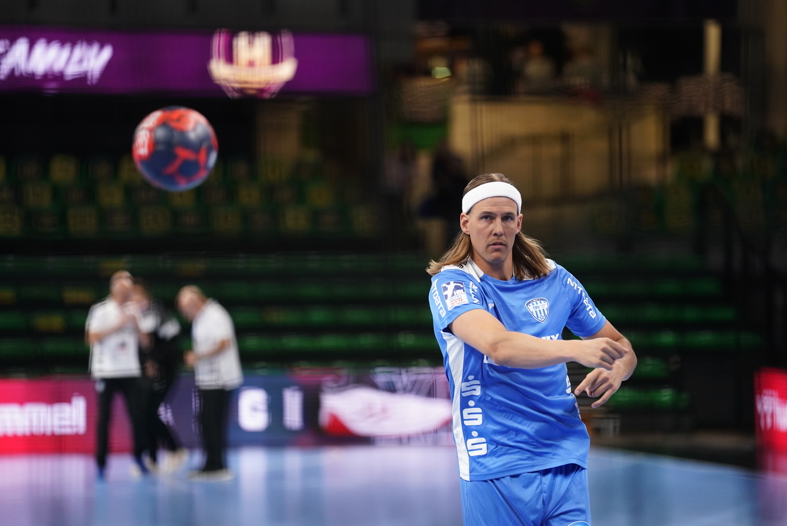 20:38
Well after that comeback drama, coupled with a blowout or two, what will the 20:45 matches bring?
Here's what we have to look forward to:
SL Benfica vs Chekhovskie medvedi
BM Logroño La Rioja vs RK Gorenje Velenje
Füchse Berlin vs TATRAN Presov
Bidasoa Irun vs Pfadi Winterthur
HBC Nantes vs TBV Lemgo Lippe
20:26
Following a Kadetten timeout, Kristian Pilipovic is on court, leaving his side with one man too many, they lose possession and him in between the posts, giving Eurofarm Pelister the chance to equalise and Josip Peric does exactly that in the final second!
Having found themselves 8 down at one point in the second half, Pelister claim a vital point, while Kadetten collapse in the final seconds for the second week in a row... 
Kadetten Schaffhausen 28:28 HC Eurofarm Pelister
RK Nexe 39:31 IK Sävehof
GOG 46:30 Cocks
Grundfos Tatabanya KC 23:37 Sporting CP
USAM Nimes Gard 26:27 AEK Athens HC
SC Magdeburg 31:27 PAUC Handball
Orlen Wisla Plock 33:29 Fenix Toulouse Handball
20:23
Still waiting on the result from Schaffhausen? It's not over yet and a mix-up by the home side has given Pelister a golden opportunity...
20:19
What a dramatic finale in Nimes. Ioannis Kalomoiros comes crashing in with a big equaliser for AEK with a minute left to play. Mohammad Sanad tries to play smart and sneak in an in-flight pass but it is cut out,
giving Athens a chance to snatch victory, which Ignacio Plaza does right on the buzzer!
AEK win 27:26, having trailed for the entire match, what a result!
20:10
What a final burst by Magdeburg! An 8:1 run, with four goals from Kay Smits, completely turns the game around and it further shows just how confident the reigning champions are. Their winning run continues with a 31:27 victory over PAUC!
20:06
AEK draw level with six minutes remaining through Dimitrios Tziras' seventh goal of the night. Definitely one to tune in for the closing stages on EHFTV - 25:25!
20:01
Nexe have found something extra in the second half and have run Sävehof ragged with their counter-attacking. Fan favourite and future Kielce player Halil Jaganjac leads the team with seven goals as they hold a 33:24 lead with 11 minutes left to play.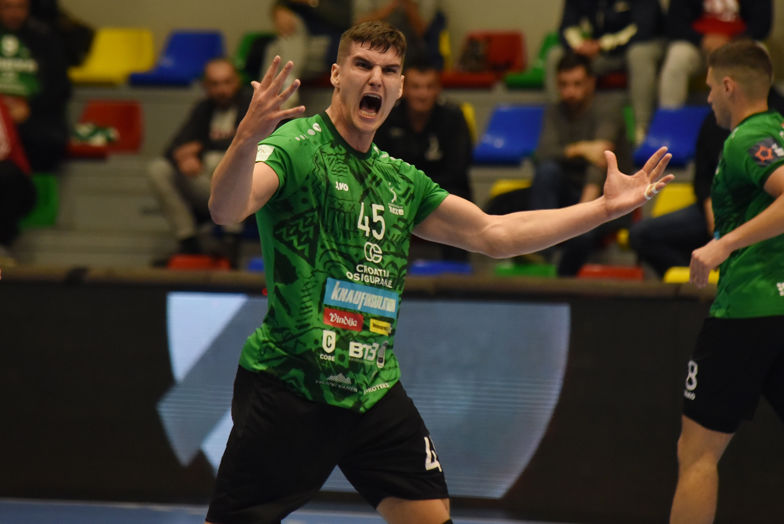 19:56
And suddenly, the game is turned on its head with a four-goal run for Magdeburg, topped off by a Christian O'Sullivan fast break, giving them a 27:25 lead and leaving Thierry Anti frustrated in his timeout talk.
19:51
Alejandro Romero is having a night to remember in goal for PAUC with 10 saves from 20 shots. His wonderful work has driven Aix to a 25:23 lead and suddenly Magdeburg's perfect record this season is under pressure with 13 minutes remaining.
19:45
At first, Nimes appeared to be cruising against AEK at home as they raced into an early lead but last season's European Cup winners are stepping up to the challenge and making a game of it. The French side has stepped up another gear in the last couple of minutes, however, and now lead 21:17.
19:37
Magdeburg have come out stronger at the start of the second half, building on solid defence as Daniel Pettersson gives them a 22:19 lead over PAUC.

The match between Magdeburg and PAUC is a real treat. An even game with the German team having a small lead for 25 minutes thanks to Damgaard being on fire with eight goals. PAUC didn't give up and Alejandro Romero built a wall in the last ten minutes to bring them back to 18:18 at the break.
19:23
Goals galore in our early throw-offs this evening with five of the seven clashes already passing the 30-goal mark by half-time. Here is your overview of the scores.
Some games are tighter than others but all to play for in all but one, where GOG appear to have Cocks' number tonight, storming into a 10-goal advantage.
Kadetten Schaffhausen 16:11 HC Eurofarm Pelister
RK Nexe 18:15 IK Sävehof
GOG 22:12 Cocks
Grundfos Tatabanya KC 13:18 Sporting CP
USAM Nimes Gard 16:14 AEK Athens HC
SC Magdeburg 18:18 PAUC Handball
Orlen Wisla Plock 19:17 Fenix Toulouse Handball
19:14
Damgaard continues to shine for Magdeburg but PAUC are giving as good as they get and the introduction of Alejandro Romero Carreras in goal has worked wonders as they draw level at 16:16 shortly before the break.
19:10
After a fairly even opening to the contest, GOG have gone on a blistering 9:1 goal run against Cocks, handing them a 17:8 lead at the 23-minute mark. Super Jerry Tollbring leads the way for the Danish club with four goals so far.
18:59
SC Magdeburg and PAUC Handball are also going at it hammer and tongs with the home side leading 10:8 and Michael Damgaard is on fire in the early stages with six goals!
18:52
Nexe and Sävehof have wasted no time in charging at each other with 10 goals shared between them in the first 7 minutes.
18:39
We're just minutes away from throw-off in our first batch of games. We'll keep an eye on all of them for the first 15 or 20 minutes and see which emerges as our game in focus.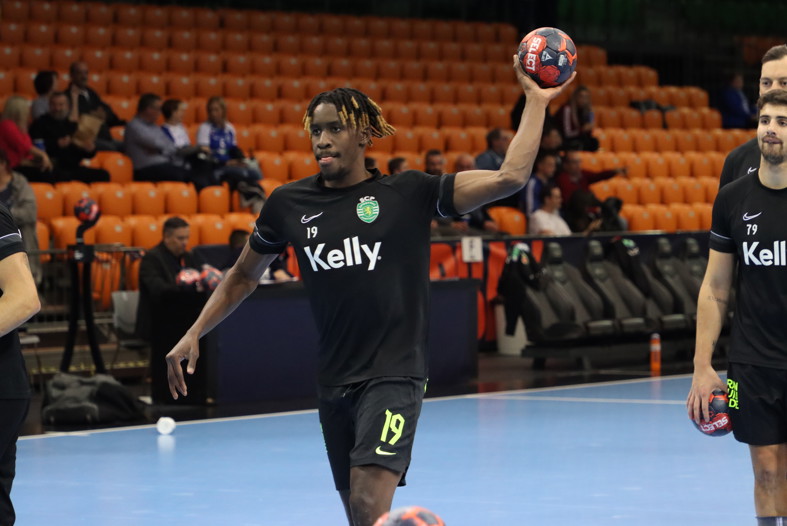 18:19
That in-form Magdeburg team come into tonight's match on the back of a huge victory away to Kiel in the Bundesliga, going clear at the top and extending their perfect winning record in Germany and abroad, which includes victory in the Super Globe and a hard-fought win over Velenje in round 1.
They face a PAUC Handball team who were left heartbroken at the end of a last-second loss to Nexe last week and will undoubtedly be going into this clash full of ambition to claim a scalp and a first victory in the group.
17:59
The countdown is on to our first batch of games this evening at 18:45 and there are some crackers among the seven.
Will you be watching two of the most impressive sides from round 1 clash in Croatia?
How about a Nordic clash in Denmark?
Or catch perhaps the most in-form club in the world SC Magdeburg?
You can watch more than one at a time with the multi-game feature on EHFTV.
Kadetten Schaffhausen vs HC Eurofarm Pelister
RK Nexe vs IK Sävehof
GOG vs Cocks
Grundfos Tatabanya KC vs Sporting CP
USAM Nimes Gard vs AEK Athens HC
SC Magdeburg vs PAUC Handball
Orlen Wisla Plock vs Fenix Toulouse Handball
17:30
With tonight's first seven matches now less than 80 minutes away, it is a good time to get yourself up to date on what will be happening. Here is the round preview with bullet-point style info on all 12 matches:
17:15
It is Tuesday late afternoon, and you know what that means... EHF European League Men action!
Welcome to the live blog for round 2 of the group phase. It all started with a bang in the opening round a week ago and you can bet we are in for a similar treat tonight.
This is the match schedule: