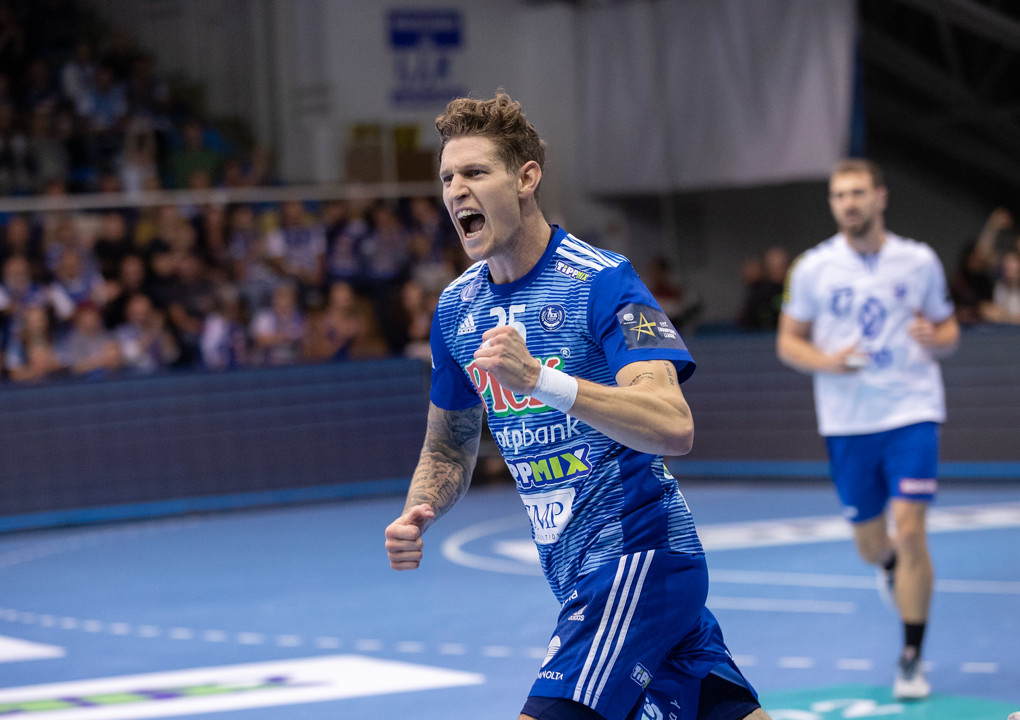 Frimmel's ambitions a perfect fit with Szeged's style
Usually, Austria's rising handball talents choose the way to the German Bundesliga to gain their first international experience - but sometimes a different path can bring an even better result.
Sebastian "Seppo" Frimmel is such an example. Until the age of 23, he played for SG Handball West Wien in the Austrian capital and became national team player. In 2018, Frimmel moved to Swiss side Kadetten Schaffhausen, became national champion, made his first steps in the EHF Champions League and improved in all departments.
"Of course, I had the dream to once play in Germany, but finally I found a different way as there was no option in 2018," Frimmel says.
Looking back on his time at Schaffhausen, the Austrian shows pure happiness: "I am extremely glad that I could get this experience at Schaffhausen and to experience international handball at a club, where the pressure was not that high and I almost played every match for 60 minutes. I needed this practice on the court for my development."
Three seasons later, Frimmel climbed another step on his individual career ladder, signing for Hungarian top side and current domestic champions Pick Szeged this summer – replacing club legend Jonas Källman, who moved to SL Benfica.
In December 2020, club and player had the first contact, already in January, both sides announced the transfer as Frimmel's contract at Kadetten was expiring end of the 2020/21 season.

"Personally, my start at Szeged was more than perfect, I am absolutely happy," says Frimmel, who right in his first EHF Champions League match for Szeged against Montpellier became the team's top scorer with eight goals.
"I felt the tension before this match but it was quite easy somehow, I already feel settled here."
On Wednesday, the 25-year-old left wing will play his first Match of the Week (MOTW) against 2021 finalists Aalborg Håndbold from Denmark, currently leader of group A on eight points - two ahead of Szeged.
The Austrian has not been surprised that their upcoming opponent is not a one-hit-wonder after sensationally making it to the final.
"Aalborg are a top team, even strengthened with several top new arrivals. Definitely, they will challenge us, as there are in general no easy matches in the Champions League. So I cannot say, whether we are the favourites or not."
Last round, Pick Szeged experienced a roller coaster ride at Kiel, being ahead at the start, down by seven in the middle of the second half and finally settling for a 32:32 draw - their first point at Kiel.
"Of course, we must be happy, as it is anything but easy to snatch a draw at Kiel, like we did at Montpellier. But we are still unhappy with the home defeat against Elverum the week before.
"We lost two expected points there and won two surprising points - so in the end, we have to see, what was the value of the draw at Kiel and if we make it among the best two of our group," says Frimmel.
Of course, the EHF FINAL4 is the biggest event you can achieve as a handball player. And in my opinion, this goal is not unrealistic or a mission impossible for a club like Szeged, having so many top players aboard.
He and Pick are ready for higher ambitions and goals - mainly the dream of once being part of the EHF FINAL4 at Cologne. Three times - in 2015, 2017, and 2019 - Szeged fell in the quarter-final, the final hurdle before reaching the LANXESS arena.
For Frimmel, it is the first time he dares to dream of the pinnacle event: "One of my reasons for the transfer to Szeged was the high ambition of the club, which is part of the European elite handball map since years, and which fits perfectly with my ambitions.
"Of course, Cologne is the biggest event you can achieve as a handball player. And in my opinion, this goal is not unrealistic or a mission impossible for a club like Szeged, having so many top players aboard."
Being part of a classic Spanish handball school, thanks to coach Juan Carlos Pastor, Frimmel knows what counts.
"Every player has his roles and tactical tasks in defence and attack, so I am responsible for turnovers and counter-attack goals - a style I like to play. I am happy that I could fulfil the expectations so far, though not everything was perfect."

One key for being part of a club such as Szeged is the development of the Austrian national team: "We have our fifth straight major tournament ahead with EHF EURO 2022 and of course, young players such as Lukas Hutecek and I could use this stage to get into the spotlight.
"I played a lot, and I am sure that my performances in 2020 and 2021 paved my way to a club such as Szeged. For other nations it might be normal to be part of World and European Championships, for us in Austria every ticket to an event like this is something special, we really appreciate this situation, as we could definitely increase the interest for handball at home."