EHF Champions League
Summary: Vipers and CSKA join the party in Budapest
This weekend, the four tickets to Budapest were decided as the quarter-finals in the DELO EHF Champions League 2020/21 came to an end, here's how it went down. 
18:29
We'll leave you for today with a selection of the finest pictures below and a reminder that the draw for the DELO EHF FINAL4 is on Tuesday!
The draw will take place in the Sport TV studio in the Hungarian capital on Tuesday 13 April at 17:30 CEST, streamed live on EHFTV, the EHF Champions League Facebook page and Home of Handball YouTube channel.
Thank you for joining us this weekend, take care and good bye!












17:58
We now know the four teams contending for the title on 29/30 May at the DELO EHF FINAL4. The big question now is who will win it?
17:39
What a second half performance from CSKA and player of the match Dmitrieva, who scored four of her six goals after the break, as well as making six assists and playing in the centre of defence. A true leader and it will be a delight to see her in Budapest.
17:34
RESULT: CSKA 24:19 CSM Bucuresti - 51:51 on aggregate and CSKA win on the away-goals rule
Vedekhina scores to give the home side the lead on away goals once more. A painstaking final attack for CSM ends with Siraba Dembele going down injured. Bucharest need a goal and it's down to a Neagu free throw from 11 metres out. It's blocked and CSKA are going to their first DELO EHF FINAL4!
17:27
Two Neagu goals on the bounce and one again it's CSM with the slender advantage overall, losing 23:19 today with 90 seconds left. Given the first leg result was 32:27, a five-goal win will be enough for CSKA to go through.
17:21
It's all CSKA and Darya Dmitrieva right now. With six goals and five assists to her name, the all-action player has dragged the home side into the lead, 22:16 on the day and a one-goal aggregate lead with six minutes left on the clock.
17:14
Cristina Neagu's first goal of the second half keeps CSM's noses in front in what is becoming an increasingly tight and fierce battle midway through the second half.
Dmitrieva responds by weaving her way through the defence to put CSKA level on aggregate with 12 minutes left to play!
17:05
Kathrine Heindahl getting in on the act for CSKA now with a pair of goals and suddenly there is a lot more space for them to work with. Dmitrieva fires in from long-range and their lead is now 17:13. 40 minutes played and just one goal in it on aggregate.
16:59
CSKA have started the brighter of the two teams in this second half but are still finding it hard to gain full control over the game - 14:12 after five minutes.
16:39
HALF-TIME: CSKA 12:11 CSM Bucuresti
It's very much game on in Moscow. CSKA have cut the aggregate deficit to four goals but will need a faster-paced second half to help them on their goal hunt. CSM have been ticking along but Adrian Vasile may be worried that only four players have scored for them, including 6 from Cristina Neagu and three from Elizabeth Omoregie.
16:31
Ristovska makes up for the aforementioned miss by scoring two fast break goals in a row and suddenly, CSKA have the lead. 10:9 with five minutes left in the first half.
16:25
Sara Ristovska almost scored the fast break in-flight goal of the season but is thwarted by a brilliant stop by Jelena Grubisic, who is on a 50% save rate and is the difference so far today.
After 22 minutes, CSM lead 9:7 and while they are not playing a brilliant match, they are doing enough and frustrating their hosts.
16:16
Dmitrieva's first goal of the game gives CSKA a 5:4 lead, which is then backed up by Chana Masson's fourth save of the day. It feels like goals are going to be hard to come by today - just 9 scored in 13 minutes.
16:09
We're five minutes into this one and with just one goal scored each, it has suited CSM down to the ground. Both goalkeepers, Masson and Grubisic are on top in the opening minutes of a game where the tension can be cut with a knife.
15:55
And on to the next one! CSKA vs CSM Bucuresti is about to begin and this Russian side will hope to do what Rostov failed to achieve - turn things around in the second leg.
CSKA trail 32:27 from the first leg and hope the return of Polina Vedekhina to the squad will help bolster a back court relying too heavily on Darya Dmitrieva.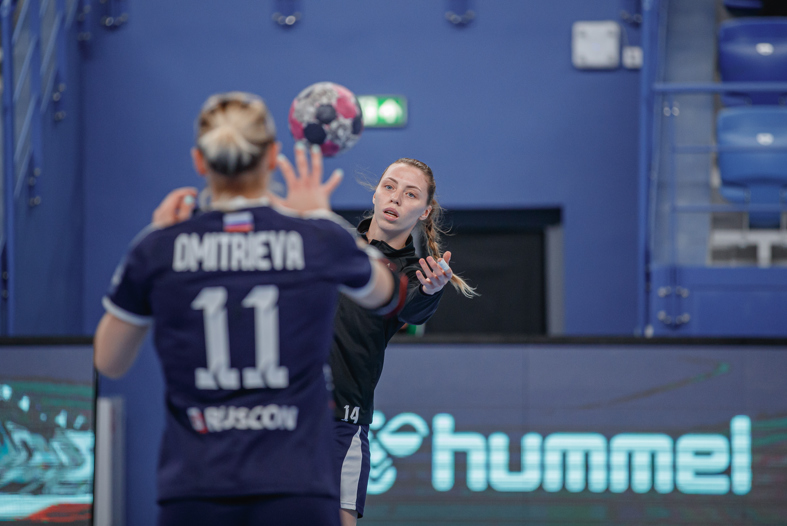 15:36
Nora Mørk's post-match remarks:
"In the first game, I think we played really well. That gave us the advantage today and it was crucial because we had a lot of tired girls.
"I am so proud to be part of a Norwegian team making it to the FINAL4. I haven't played in two months, maybe 10 minutes in practice, then two games in two days. I'm so tired, my head is finished, but I'm so proud, not many thought we would beat Rostov."
15:27
RESULT: Rostov-Don 23:23 Vipers - Vipers win 57:50 on aggregate
Vipers are going to Budapest!
In a season where they have played only two home matches and both knockout rounds away from home, this is a truly remarkable achievement from the Norwegian club.
A stunning start to the match today, flying 7:1 ahead put them in an almost unassailable position. Despite a brave second half for the second day in a row from Rostov, it was far from enough and they miss out on a trip to the DELO EHF FINAL4 this season.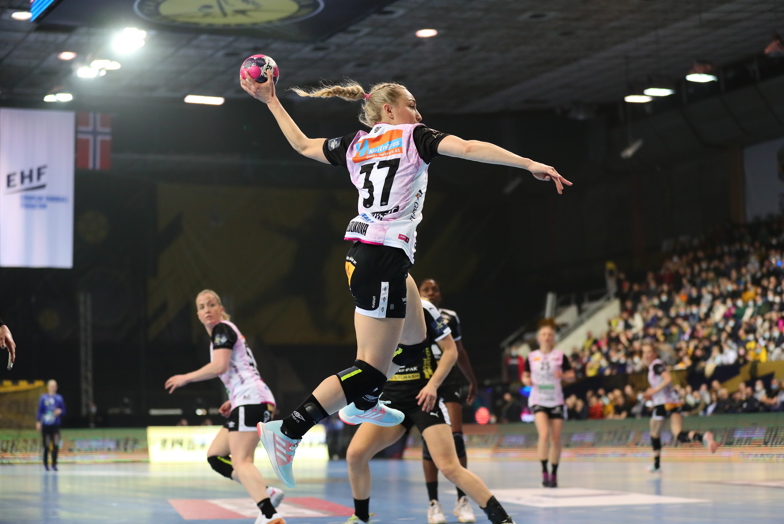 15:18
It has been another outstanding performance by Grace Zaadi with seven goals and a number of assists. Performances like that are worthy of the EHF FINAL4 but there haven't been enough of them from Rostov this weekend. 20:19 to Rostov with 6 minutes remaining, Vipers lead by 6 on aggregate.
15:11
For the first time today, Rostov take the lead through a Managarova breakthrough, going 18:17 ahead on the day but still trailing by 6 on aggregate with less than a quarter of this clash left to play.
It has been a spirited battle by Rostov but they will end up looking back at the first 10 minutes of today with despair.
15:02
Rostov have pushed their defence out aggressively in an attempt to force mistakes and score quick goals but Vipers have torn through it with smart movement off the ball and forced them back to their six-metre line. 16:14 to Kristiansand after 40 minutes.
14:56
Zaadi scored Rostov's last goal of the first half with a penalty and she opens their second-half scoring the same way. In the meantime, however, Vipers added a pair of goals to their account and Katrine Lunde appears to be back in business. 
The camera cuts to Anna Vyakhireva looking on in despair in the stands as a chance is wasted and Vipers go on to lead 15:12.
14:49
As we get set for the start of the second half, a reminder of what Rostov are capable of when at their best. They'll need a lot more of that from the likes of Managarova and Zaadi and more saves from Kalinina, who looks much sharper than yesterday.

14:35
HALF-TIME: Rostov-Don 11:12 Vipers Kristiansand
A penalty scored by Grace Zaadi with the final throw of the first half sends the packed crowd wild but as the sides go into the dressing rooms, Vipers are still very much on top.
Kristiansand's phenomenal opening 10 minutes has been the difference so far but being outscored 10:5 since then has given them plenty to be wary of in the second half as Rostov continue to show that they are capable of hot streaks when given a chance.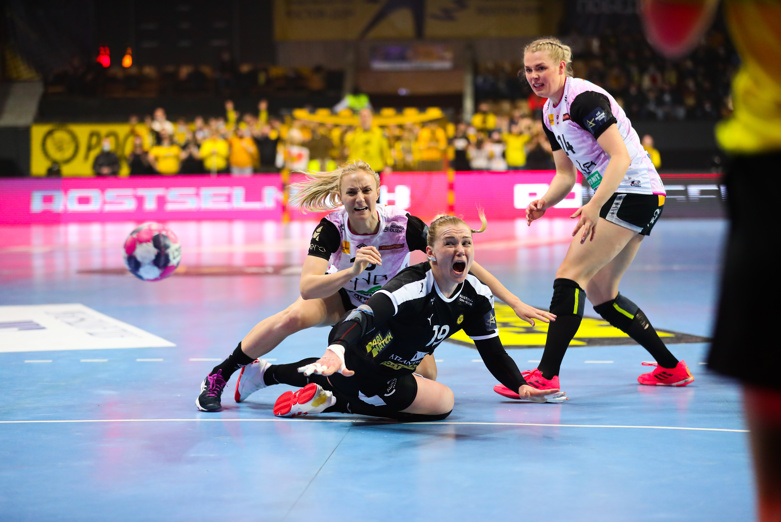 14:29
A great example below of how commanding Katrine Lunde has been this weekend. She is, however, finding life a bit tougher in the second quarter as Rostov are fighting back.
With four minutes left in the first half, Vipers lead 11:8 and by 10 on aggregate.
14:20
They're late to the party but Rostov finally settling into this contest and putting some goals on the board. However, Vipers look incredibly comfortable with the score at 9:4 and there aren't many signs of that changing as we pass the 18-minute mark.
14:13
Well, this has gone from bad to worse for Rostov. 7:1 would have been a dream score but it's the wrong way around for them and it is Vipers who are the first to strike. Lunde has made five saves and her teammates have been ruthless in attack.
14:08
Seven minutes played and it's exactly what Vipers would have wanted. Not only have they avoided falling behind in a rapid opening to the game, which is what you might expect in a situation like this, but they have taken a 4:1 lead - thanks largely to some big saves from Katrine Lunde.
13:54
It is almost showtime in Rostov. Get yourselves on to EHFTV now to see if the 2019 finalists can pull off a huge comeback!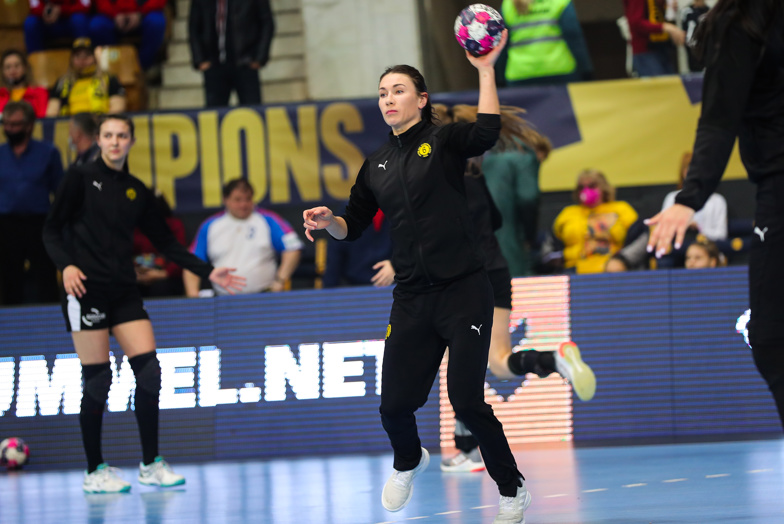 13:28
One of the standout topics from yesterday's first leg between Vipers and Rostov was the brilliant return of Nora Mørk to top form.
This was her first full game after her most recent injury layoff in January and she looked impeccable in attack and fearless in defence. If she has a repeat performance today, it's hard to see past Vipers, particularly with Anna Vyakhireva absent for the hosts.
Sunday 11 April - 13:15
Good afternoon everyone and welcome back to our running coverage of a vital weekend in the DELO EHF Champions League. 
Today is the big one with two matches in Russia, where both home sides have sizable first-leg deficits to overcome in the hunt for a place at the DELO EHF FINAL4 next month.
We have Rostov-Don vs Vipers Kristiansand at 14:00 with Vipers holding a 34:27 advantage.
And at 16:00, it's CSKA vs CSM Bucuresti with the guests having won the first leg 32:27.


20:25
With Saturday's action all wrapped up, it's time to look ahead to Sunday! By tomorrow evening, we will know all four sides that will play for the title in Budapest on 29 and 30 May. 
Here's what's coming up on the last day of quarter-final action:
14:00 CEST Rostov-Don vs Vipers — first-leg result 27:34
16:00 CEST CSKA vs CSM Bucuresti — first-leg result 27:32
While CSKA are hunting their debut DELO EHF FINAL4 berth in their maiden season in the top-flight competition, Vipers and Rostov are both aiming to return to Budapest after contesting the most recent edition, in 2019. CSM want to make their way back to the semi-finals after last reaching that stage in 2018. 
Join us tomorrow to find out which teams succeed in their mission! 
20:03
Two DELO EHF FINAL4 berths were decided today and the last two will be determined on Sunday. Who do you think will reach the final weekend in Budapest? Let us know below! 
19:51
They've been there many times before but reaching the DELO EHF FINAL4 never gets old for Györ, who booked their place on the final weekend as they extended their unbeaten Champions League streak to 55 games. 
Can they build on that record? The next chance will be in the semi-final stage! 
19:48
With all of Saturday's games wrapped up and two of the DELO EHF FINAL4 2021 participants confirmed, review everything that happened in our match reports. Find them below. 
Buducnost have an incredible and inspiring warrior spirit. In the first half it was exactly this fighting that we lacked. Nevertheless, I am very happy that we got to the FINAL4! I would like to congratulate Buducnost because it is a very good team.












We struggled throughout the match and wanted to show that we had a bad day last time. We also wanted to show that we did a good job throughout the Champions League season. Today we played much more with our minds than with our hearts.

Congratulations to Györ, and I wish them good luck! I am proud of my team. I am very grateful to them for the work they have done.
19:30
RESULT: GYÖR VS BUDUCNOST 24:21
AGGREGATE RESULT: 54:40
Györ finish strong to earn a win after a big fight from Buducnost. With that, the Hungarian side clinch the second DELO EHF FINAL4 berth, after Brest.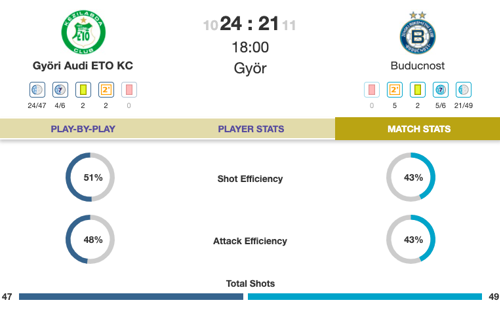 19:24
Last timeout of the match and it's clear that Györ will proceed to the semi-finals, as they lead 23:20 in the game and 53:39 on aggregate. 
But Buducnost are nevertheless fighting to the end and showing huge motivation still. 
19:15
As the match enters the final 10 minutes, Györ have pulled in front to a two-goal lead, 20:18. At this point, the defending champions appear to be on their way to their fifth straight EHF FINAL4...
19:08
15 minutes from the final buzzer, the match is level at 17:17 as Jovanka Radicevic nets her fifth goal for Buducnost. Radicevic is the top scorer of the fiery clash so far. 
Below, enjoy a great goal from another right wing: Györ's Dorottya Faluvégi. 
18:52
The second half begins in Györ, which means we will know our second semi-finalists in just 30 minutes! 
Who will join Brest on the final weekend in Budapest? 
18:38
HALF-TIME UPDATE: GYÖR VS BUDUCNOST 10:11
A tight first half ends with a narrow lead for the visiting side. Buducnost have 30 minutes to turn their one-goal lead into an advantage of 12 in order to clinch the semi-final ticket. 
The Montenegrin side certainly appear determined as they face the extremely difficult task at hand. Can they possibly pull off such a big win from here?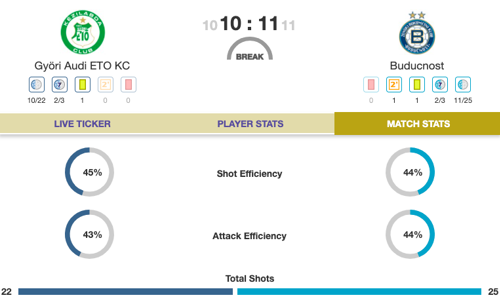 18:31
Györ coach Gabor Danyi calls a timeout in the 25th minute as his side sit one goal behind at 8:9, advising simple play and "more concentration against the goalkeeper". 
In Buducnost's goal, Barbara Arenhart is indeed having a strong match, having made five saves at 38 per cent with five minutes to go in the half. 
18:27
22 minutes gone and the score remains level, 8:8. 
Buducnost are certainly bringing more of a challenge to Györ today — but the 11-goal deficit from the first leg hovers as even a good game that ends on equal terms will be far from enough for the Montenegrin side. 
18:13
It's all level at 4:4 as the clock hits the 13-minute mark in the last quarter-final of the day. 
It's a vastly different story from the first leg in Montenegro, where Buducnost fell behind immediately and could not fight back. 
18:01
THROW-OFF IN HUNGARY
It's your last chance to catch some DELO EHF Champions League action on Saturday, as the last quarter-final of the day begins. 
Watch live on EHFTV.com and keep up with all the match statistics on the live ticker. 









17:38
Coming up, the last quarter-final of the day, Györ vs Buducnost! 
The defending title holders bring an 11-goal advantage into the second leg, after what was a record win against Buducnost last weekend.  
Györ enter the game on the back of an unbeaten streak of 54 games in the DELO EHF Champions League, having not lost a match since January 2018. They have also won the last nine matches against Buducnost — including in both legs of the 2017/18 quarter-finals.
Is history about to repeat or can Buducnost pull off an upset?
This will be the last European cup match for Eduarda Amorim in Audi Arena, as she is set to leave Györ after 12 years — and five Champions League titles — this summer. 















17:27
RESULT: METZ VS BREST 26:26
AGGREGATE RESULT: 50:60
Brest are the first to clinch a DELO EHF FINAL4 2021 ticket! The match ends in a draw that means Brest's first-leg win decides the aggregate result — and the French side are through to their first ever DELO EHF FINAL4.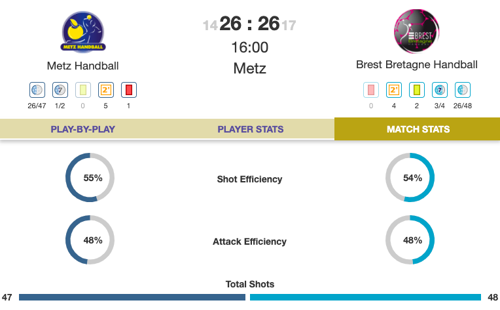 17:18
Metz's comeback has been helped by some big saves from goalkeeper Hatadou Sako. Enjoy one of her best below! 
In attack, Metz are led by seven goals from seven attempts scored by Camila Micijevic. 
17:15
After their strong start to the half that brought them to just one goal behind, Metz were left fighting to equalise until wing Manon Houette finally did so in the 51st, 23:23. 
One minute later, Metz have grabbed the upper hand to lead 24:23, but it all looks to be coming too late for the side — Brest still have an aggregate lead of nine goals so Metz will have to pull off a spectacular end to the game to take the semi-final spot now. 
Below, enjoy an earlier goal from Brest's Montenegrin back Djurdjina Jaukovic. 
16:57
Camila Micijevic nets the first two goals of the half and just like that, Metz are within one goal of their opponents, 16:17.
On the other hand, Brest have yet to find the goal in this half, with over seven minutes played now. 
16:48
We are all set for the second half to begin! Brest look to be 30 minutes away from celebrating their DELO EHF FINAL4 berth — but Metz still have the chance for a turnaround if they can pull off a huge comeback. 
16:35
HALF-TIME UPDATE: METZ VS BREST 14:17
Brest hold on to their three-goal lead at the break and appear to be on the way to the DELO EHF FINAL4, with a commanding aggregate advantage. 
Brest back Ana Gros top scored the first half with four goals, adding to her season total — which puts her first in the competition — to make it 118.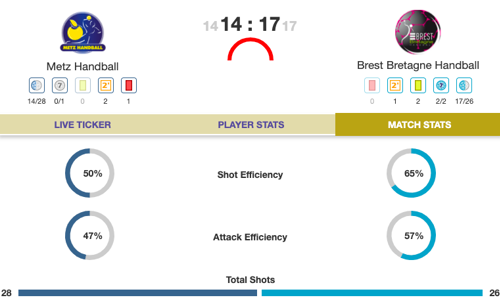 16:28
At the 25-minute mark, Brest are holding the upper hand, 14:11 — which means a 13-goal lead on aggregate. 
16:12
We are seeing a close contest so far in France, with the score at 6:5 for Brest as we hit 11 minutes on the clock. 
Metz are presenting a big challenge to their rivals, but with a 10-goal deficit to overcome, they will need to outperform Brest clearly. 
16:06
The Player of the Match in the MOTW is Nora Mørk! The right back put on an outstanding performance in Vipers' first quarter-final, scoring nine goals with seven of those from the field. 
For a full rundown of the match, read our match review here. 
16:03
THROW-OFF IN FRANCE
Metz vs Brest is now live and we are just 60 minutes away from finding out the first participants in the DELO EHF FINAL4 2021! 
Head over to EHFTV.com to watch and follow the stats on the live ticker here. 

15:52
We are heading to France for the second quarter-final match of the day, where our first semi-finalists will be confirmed!
Metz are hosting Brest with a big deficit to overcome, as Brest won the first leg by 10 goals, 34:24. 
In the last five seasons, across all competitions, Metz secured four wins against Brest by at least a 10-goal difference, but they have lost the last four matches against their French rivals. And Brest are in top form, having won the last six Champions League matches played. 
With their 10-goal lead, Brest could be on the cusp of history, as they have never progressed past the quarter-finals before. Metz reached the last EHF FINAL4, in 2019 — the first French club to do so. 
No team has ever wiped out a 10-goal deficit in the first leg to proceed to the EHF FINAL4. Metz were closest — after losing by 13 goals against CSM Bucuresti in the 2017/18 season, they won by seven at home. 
I'm really sad. Vipers played good — with power and speed. As for us, we did a lot of mistakes. We did come back in the second half, but it was not enough. I hope we will play better tomorrow. I believe in our team.


















15:35
Vipers goalkeeper Katrine Lunde contributed 11 saves to her team's effort vs Rostov-Don. Check out one of the best below! 
Lunde spent three seasons in Russia with Rostov-Don, from 2015 to 2017, before returning home to Norway to join Vipers. 
15:29
RESULT: VIPERS VS ROSTOV 34:27
Vipers earn their first ever win against Rostov-Don and take a big step towards their second DELO EHF FINAL4 as they finish with an advantage of seven goals.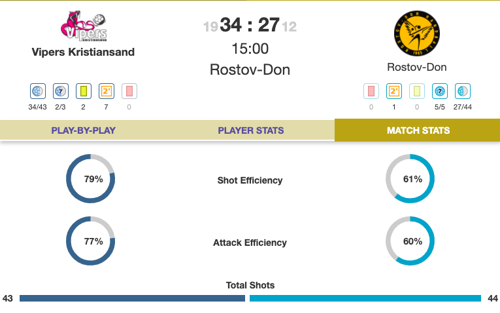 15:21
We are now inside the last five minutes, and Rostov are exactly five goals away from their opponents, with Vipers ahead 31:26. 
At this point it seems Vipers are certainly going to be entering the second leg on Sunday with an advantage, the question is only how big that advantage will be...
15:16
Nine minutes on the clock and Vipers can feel the danger now, as Rostov have narrowed the gap to four, 29:25. 
Scoring wise it's really a contest between Grace Zaadi and Nora Mørk, with the two backs now totalling eight goals each for Rostov and Vipers, respectively. 
15:08
With 15 minutes of the second half played, Vipers are still clearly in front, 27:20. 
The Norwegian side have never defeated Rostov, although the sides do not have a long history between them, having met on court three times before. All three games ended in favour of Rostov, with the biggest margin recorded in the 2019/20 main round match in Russia, 33:26. 
Are Vipers on the way to an historic victory? 
14:41
Iuliia Managarova is Rostov's clear top scorer this season, with 67 goals ahead of their first-leg quarter-final clash vs Vipers. 
The wing has contributed two goals towards Rostov's effort so far. Take a look at one of the best of them below. 
14:35
HALF-TIME UPDATE: VIPERS VS ROSTOV 19:12
Vipers dominate the last part of the half to take a commanding lead into the break. Nora Mørk and Grace Zaadi finish as the top scorers of the first 30 minutes, with six goals apiece.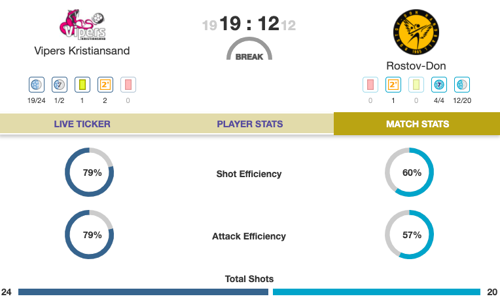 14:27
With six minutes remaining until half-time, Vipers have taken charge, leading 14:11. 
Wings Jana Knedlikova and Vilde Jonassen have combined for six goals so far, while Nora Mørk is at her lethal best with five. 
14:17
The first quarter of the MOTW comes to an end with the score level at 6:6, after Rostov briefly opened a lead of three goals, 6:3 at the 10-minute mark. 
Keep an eye out for the line player duel between Vipers' Hanna Yttereng and Rostov's Ksenia Makeeva, although the Norwegian side have opted to start with Heidi Løke on court today. 
14:01
THROW-OFF IN RUSSIA
The first quarter-final of the day is now live! 
Tune in now to watch Vipers vs Rostov on EHFTV.com and follow all the statistics on the live ticker.  
13:54
We are just a few minutes away from throw-off in the MOTW! Although Vipers are technically the home side for this encounter, both matches of their double header against Rostov are taking place in Russia. 
Here are some key facts about the encounter:
Rostov and Vipers have already met in the group stage this season, and the Russian team narrowly won 24:23 on neutral ground in Erd, while the game in Rostov was cancelled and assessed as 10:0 in favour of the home side
in the play-offs, Rostov cruised past HC Podravka Vegeta twice, with an aggregate score 77:41, while Vipers eliminated Odense in a hard-fought Nordic duel that ended 65:62 on aggregate
Vipers' experienced leaders Nora Mørk and Heidi Løke are back after injuries and will be able to help the team in Rostov   






















13:32
We have plenty of reading and watching material to keep you busy while you wait for the MOTW to begin! 
On Instagram, we started the day with the Breakfast for Champions series ahead of the MOTW, featuring Vipers wing Jana Knedlikova and Rostov back Vladlena Bobrovnikova. Watch it here. 
On eurohandball.com, check out the MOTW feature with Vipers wing Jana Knedlikova as she reflects on the season and looks ahead to the match against the Russian side, and get ready for all this weekend's games with the round preview. 
Also be sure to take a look at the very special news surrounding Györ centre back Stine Oftedal, who was named on Forbes' list of '30 under 30' Europeans to watch in the sports and games category this week. 
Lastly, find all the details about Tuesday's draw in Budapest, where the semi-finalists will find out who they face in the penultimate stage of the season. 
13:15
Welcome to our live blog coverage of the second weekend of DELO EHF Champions League quarter-finals! Courtney Gahan here to guide you through Saturday's action. 
This weekend, we have three quarter-final ties that started last weekend set to conclude with the second leg and one double header, between Vipers and Rostov. 
Saturday
14:00 CEST MOTW Vipers vs Rostov
16:00 CEST Metz vs Brest — first-leg result 24:34
18:00 CEST Györ vs Buducnost — first-leg result 30:19
Sunday
14:00 CEST Rostov vs Vipers 
16:00 CEST CSKA vs CSM — first-leg result 27:32
Refresh on the first legs in each of the three quarter-final ties that started last weekend below.